The Flow of Funds report (http://federalreserve.gov/releases/z1/Current) published by the Federal Reserve on a quarterly basis provides a wealth of information on the balance sheet of individuals and companies in the United States.  We all know the real estate bubble was bad, but how bad was it?  The following chart attempts to put the bubble in perspective.  The data was taken from the latest Flow of Funds report for individuals and not-for-profit entities. 

The blue line represents the value of real estate, the red line is mortgages (including home equities), the green line is the percentage of debt against home values, and finally the black line is the long-term average debt against the real estate values.  From the peak real estate values in September 2006 to today, real estate values have dropped almost $7 trillion or 27%.  Mortgage debt didn't peak until December 2007 and since that time has declined $0.5 trillion or 5%.  As a result, mortgage debt to real estate values spiked well above the long term trend of 42% to 55%.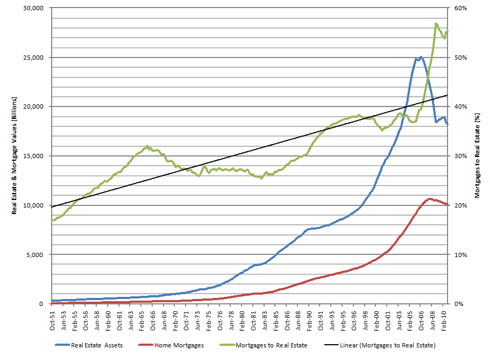 If you believe that the data is mean-reverting and don't think that real estate values are going to increase anytime soon, then the data suggests that we should see mortgage debt decline by $2.4 trillion or 24%.  This would get back to the trend-line of 42% mortgages to real estate.  It's no wonder the Federal Reserve is trying to inflate prices.  A strong deflationary force still at work at least for real estate values and is going to continue to be a drag to banks, especially those with a loan portfolio weighted heavy in mortgages.

Disclosure: I have no positions in any stocks mentioned, and no plans to initiate any positions within the next 72 hours.