Since I nothing much to do yesterday I decided to fiddle with the YMBI&OC portfolio to see if I could get the yearly ROI over 45% and even out the distributions a little at the same time.
As I mentioned in the previous version of this article: "The YMBI&OC INCOME Portfolio: MORL, WMC, CEFL, BDCL, SLVO, LNCO"
the goal was to create an INCOME generating portfolio where:
the ROI was so high that the daily variations in market value could be looked on as "noise"
a -50% drop in total dividends would not materially affect my life style
there was no need for a sale of securities to generate income
capital appreciation was not only of secondary importance but not desired so that additional shares could be purchased at attractive prices to further increase actual income
it was also "scaleable" so that it could also be used over time to create a portfolio of the size that would allow the average investor to actually retire in the style to which they would like to become accustomed instead of the one the Government thinks is fair for you to have (example at the bottom of the page)
Please keep in mind while you cruise thorough this that I'm an old fart (62.7 at the time of this writing) and that MY GOAL IS CURRENT INCOME over the very deferred gratification or piddling actually spendable current income returns of "DGI" or the potentially vaporous results of relying on "total return".
The 6 stocks I selected for the original version of the YMBI&OC INCOME* Portfolio are MORL, WMC, CEFL, BDCL, LNCO and SLVO, to that list I added OXLC.
Why did I do that?
someone on SA suggested I look at it to spread out the dividend pay dates
at Fidelity OXLC is a 30% margin stock
it pays quarterly but on a different schedule than the "BIG" months of MORL, CEFL & BDCL and the quarterly distributions of WMC
the yield at a share price under $15 is 16.24%
Q: Why is that good?
A: With the margin requirement being just 30% my actual yield on cost is 53.58% and having a more even level of dividend distribution makes for a happier bank account.
*Did I mention this selection is for primarily designed for CURRENT INCOME? of course at +45% yield a year with no share price appreciation needed it might be fun to watch it DRIP too.
Portfolio Components:
mREITS: MORL, WMC
CEF's: CEFL
BDC's: BDCL, OXLC
Commodities: LNCO, SLVO
I found a different correlation calculator that allowed for up to 10 stocks so I have them all listed now: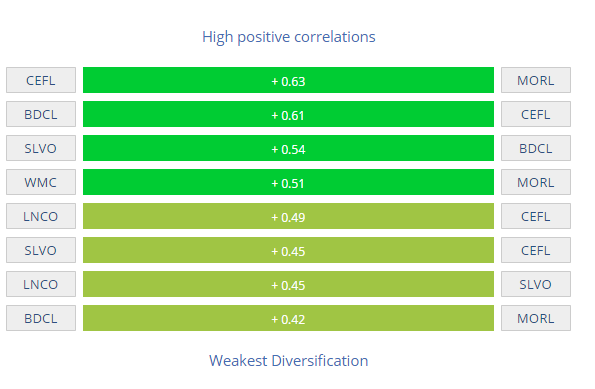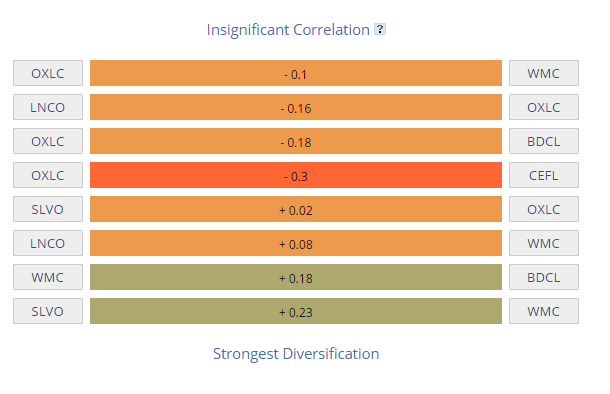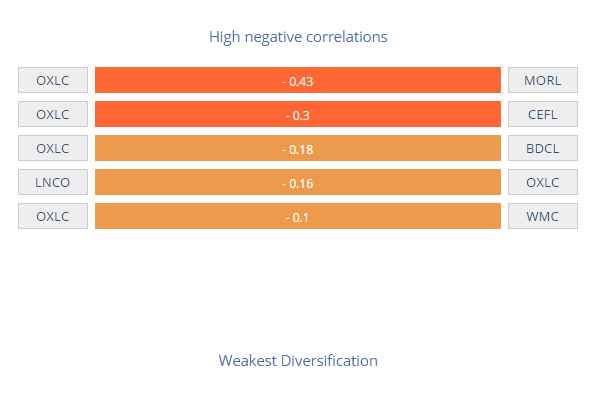 Even though these stocks are not that well correlated, (a good thing) they have tended to move in the same direction in market price, (see composite price chart below the div charts) which has enabled me to add to my positions at favorable prices over time, except for CEFL where I got in at a mid point in the price cycle and not at a low, so I might just have to buy more. If I buy more I will have to buy more of the others too so we will revisit that as more funds become available on or before mid June 2015.
The Dividends:
MORL:

WMC:

CEFL:

BDCL:

SLVO:

LNCO:

OXLC:

5 year price trends:

This is not exactly the status of the portfolio as of today, but it is where it will be by mid June 2015 assuming my options positions are put to me (LNCO & WMC) and trading gains between now and then are reinvested in various amounts of OXCL shares each month to keep the allocations to each sector at about 25%: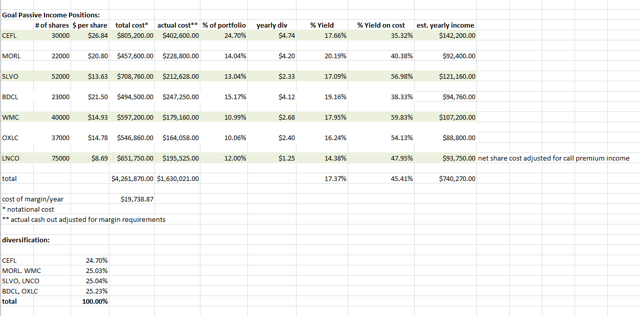 The fun part of the revised allocation is the 45+% yearly ROI on actual invested capital, plus adding OXCL and dropping the # of BDCL shares adds $22,200.00 to the month prior to the "BIG" month where BDCL, MORL, CEFL & WMC all drop their dividends while adding ~$30,000.00 to the yearly total compared to v1.0..
The less than fun part would be a 50% market meltdown of course. I'm betting on black for the next 2 years or until the coronation of Queen Hilary is accomplished, by then I could be off margin, or be raking in $1M+, so maybe I would not care.... time will tell.
As in v1.0 the idea is that the "Diversification" spread is maintained at the ~25% each level with the CEFL position of 30,000 shares being the anchor that the rest of them revolve around. I'm not really in love with CEFL, but I do not want to sell any of it as my average cost is higher than the current market price, and I don't need to do any "tax loss harvesting" at this time.
I don't really like the single stock risk that WMC, LNCO & OXLC offer, but WMC is not in MORL, and the 30% margin requirement of OXLC and WMC makes the effective yields of ~55% & ~60% very attractive. LNCO is a 30% stock as well, making it's yield ~45% - plus WMC and LNCO offer options for hedging or added income. Sweet.
The availability of long dated call options has enabled me to take 90% of the $ I originally invested in LNCO out already, (see here) and use that $ to buy more of the other income producing shares etc.
To explain the yields in the spreadsheet, the "yield on cost" is adjusted for the actual dollars invested which is the actual stock price I paid adjusted for the required margin percentage - that's the "On Crack" part of the portfolio. Of course that's what makes it more fun than watching the grass grow.
The numbers for "Yearly Div", "$ per share" etc will obviously vary as positions are added too by rebalancing etc. and those will affect the estimated yearly income and net yield on cost.
My margin interest in v2.0 is a very reasonable $19.7K/year or so, and the increased projected pretax income of ~$740,000.00 works for me as I don't need that much. So what I can do with the excess $ is either buy more stock so I can make more money or pay the margin off to a more "comfortable" %.
so.... we'll see.
---------------------------------------
Don't have $1.6M to drop on this? Neither does one of my car buddies. But he's younger too, and he's one of the lucky ones that still has a job even with all the benefits of Obamanomics.
Here's where he's starting: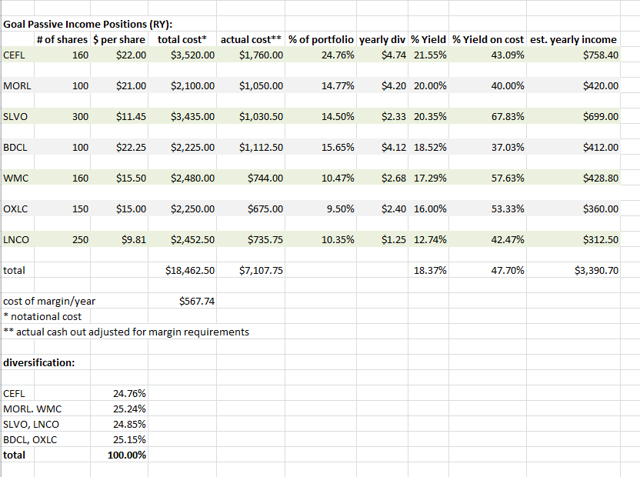 His margin rate is 5% because his balance is not as high as mine, but he's still making out like a bandit. His shares are set to DRIP as commissions would kill him reinvesting fractional shares every month in a portfolio of this size. Too bad I did not start at his age. Hopefully he will add to his positions quarterly to rebalance.
---------------------------------------
Disclosure:
This is a revised v2.0 snapshot of the goal income portfolio that I will not have fully assembled until June 2015, and I will only update it as I remember to do so, or the positions change materially so don't bet your whole financial life on it, I haven't, just half.
I borrowed and then modified some of this fine print from another site as I found it amusing:
"The sites that SA automatically links to in the article via hyperlinks are not under my control. Those sites are responsible for the content of those sites and some may have no content. The sun, the moon and the rotation of the Earth are not under my control either. I'm working on it, but don't hold your breath, and don't try to make me responsible for the other sites, other forum members posts or bad math, global warming or any random malady that befalls you. If you try, I may have to send my crack in-house security team to visit you. His name is Fido.
The world and the markets are an ever-changing place, which means that content can become outdated quickly. While I hope to avoid having outdated material in this stocktalk, I can't guarantee that everything is or will be updated in realtime 24/7/365, so don't rely on the timeliness or accuracy of the information in the stocktalk to guide your investing decisions. One assumes that you are able to make your own decisions, and while I don't want to come across like other talking heads here or elsewhere, I don't want to have to update the stocktalk every night either. I recommend consulting a physician before investing in these stocks if you are pregnant, elderly, have pre-existing portfolio abnormalities or psychiatric disorders, cannot think outside your current box, suffer from a heart condition or other serious medical condition that may be influenced by market swings."
YRMV depending on what you do or don't do and when you do or don't do it. Money isn't everything, but having it beats not having it if only for the greater numbers of options & life choices it allows for.
Disclosure: The author is long BDCL, WMC, MORL, CEFL, SLVO, LNCO, OXLC.
Additional disclosure: Having your money work for you sure beats working.