HELL'S KITCHEN: My NAV May Be In The Toilet Along With The Indexes, But My Income Ought To Be About A +400% Return On NAV This Year.
1/30/2016
You know the old saying, "If you can't take the heat, stay out of the kitchen", or maybe it was "If you can't do the time, don't do the crime" ?
But either way, January sure was fun, (see the final income spread screenshot below, a nice bump up from my projected $85,039.54 earlier in the month) although it started off with a couple of decent sized kicks in the NAV's ass.
Looking forward to February even more when I add BX to my ETE positions. More shares = more calls = more INCOME. And as you know, over here at the Frankenstein Funds Hedge Funds Group we are all about the income because that's what we get to spend.
So as some of you might know if you read the comments section under these blogs a suggestion was made to look into the WEEKLY call option premiums on BX and ETE.
WOWIE.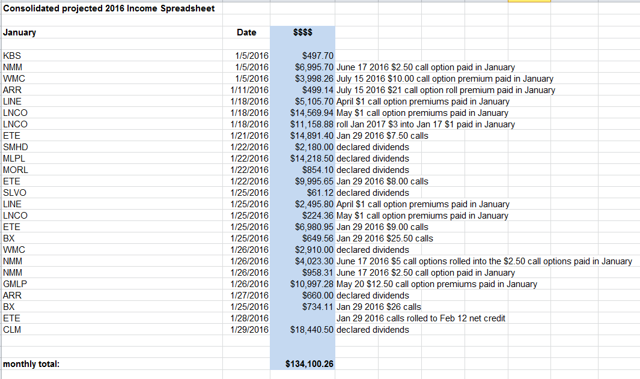 Now that's a good way to rebuild your portfolio after a month of negative moves in the indexes - "The Worst January in X Years!" - or so I heard on the FBN.
My best month for INCOME in 4 years though.

Astute readers might notice that the last entry for ETE roller income is blank. That's because I let them be called. It's too much hassle to roll trade 400 options one handed on 3 different strikes 20 at a time on a phone from the corkscrew @ Laguna Seca with 2 bars of cell coverage, so 30,000 shares were called away, 10,000 left. Will start over Monday.
The good thing is that I made enough in equity gains in the temporary farce of a BoJ inspired rally to allow me to get 40,000 more ETE Monday, so if I can get in at $8.50 or better and sell the Feb 5 $9 strike for $0.30 or so even if I'm called for the div on Thursday I'll still make $0.80/share for the week X 50,000 shares = (comon, even DVL can do this level math.....)
~ $40,000.00
The even more cool thing is that I can do that 4 times in February leading to this INCOME projection: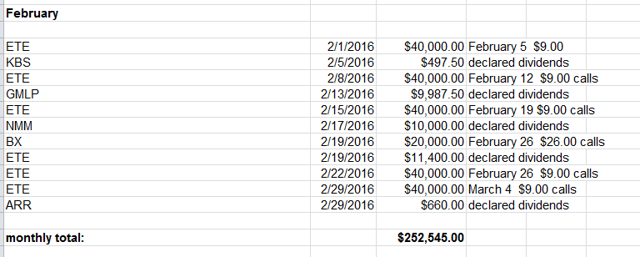 At this rate I might actual be solvent soon.
Even more astute readers might notice that there is just one BX trade listed, and that I COULD do the same thing as with ETE and sell the March 4 calls on Feb 29. But that's a long time from now in an uncertain future in a galaxy far far away.... Lets see if the force is with me and what really happens
YRMV of course, but keep #8 in mind.
*sorry this is short and lacking in fun graphics this weekend but I'm operating remotely and the satellite connection comes and goes. Back in the command chair Weds.
Disclosure: I am/we are long ETE, BX, CLM, WMC, ARR, MORL, LINE, LNCO, OXLC, CEFL, GMLP, NMM, SMHD.
Additional disclosure: If you can't take the heat, it might be better to say out of the kitchen, and don't event look at the jalapeños!