Crawling Back From The Abyss..... Let's Hope The Light At The End Of The Tunnel I'm Seeing Is Not A Train Named "Midnight Express"
2/20/2016
Given all the THE END IS NEAR headlines I read this past week, there is a real existential clash going on between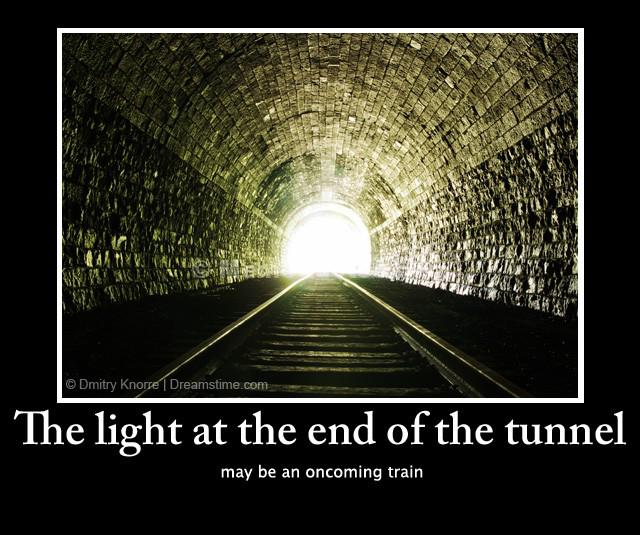 and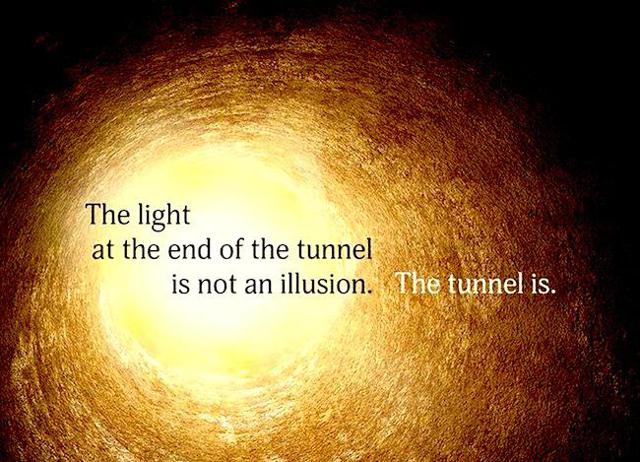 No matter what side of the fence you happen to be on, it was a crazy week in the casino.
Still it's much better to be inside at one of the tables than out in the cold looking in the window, at least you get free drinks..
If you are keeping up, you heard about what the nice suits at Fidelity decided to do to manage their risk - that was painful.
and I didn't get my new stake until after the close Wednesday, so I could not get a new hand until Thursday am, but it worked out just fine anyway: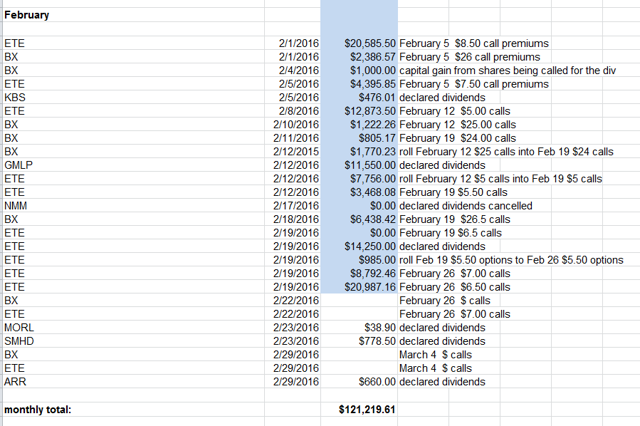 I let a chunk of the 80,000 shares of ETE I had last week be called as I could not get a decent "net credit" roll trade on the $5 strike I sold the week prior until March 25th, and that's too far away, the $1 of capital lost can be made up by at least +$3 in call premiums by then = a net gain of +$2 so by-by to them..
On the BX side, the same thing happened for 4,000 shares, on the other 22,000 the calls expired worthless to the buyer, and so they will be back in play Monday.
The idea for next week will be to get the trading positions arranged for maximum income potential AND so that the maintenance margin requirements on GMLP drop to 35% from 40% without raising the margin requirements on BX or ETE AND without spending too much $ so as to free up additional capital to pad the volatility buffer - Whoo-Hoo!
Current: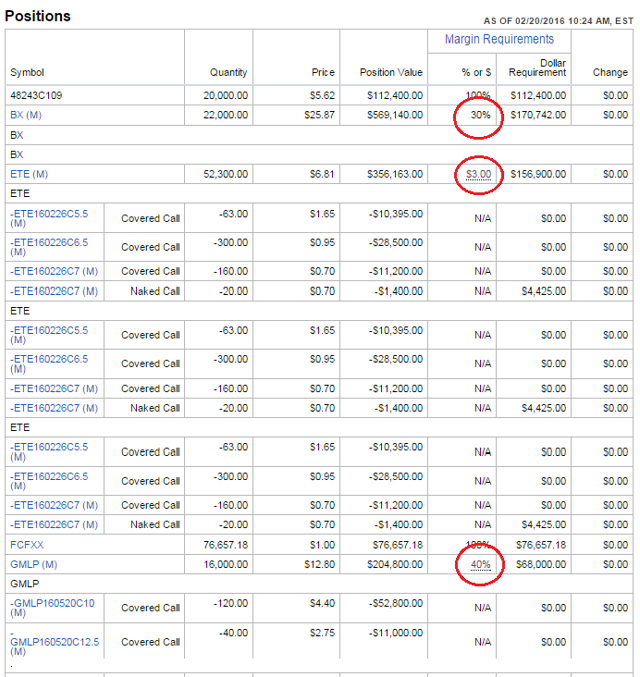 The margin calculator is not working right this am as the ETE and BX shares that were called away have not settled out, so I can't get an accurate calculation right now, but last week when I was fiddling pre actual trades it looked like adding a small block of either CLM or OXLC might do the trick with GMLP. I could not add them back into the mix until the tax losses from selling them back in January were locked in (I had to wait until 2/20) so 2/22 it is.
OXLC has since dropped to just under $7, making it more of a "bargain" assuming they continue their projected payouts - but my out of pocket cost is still $3/share: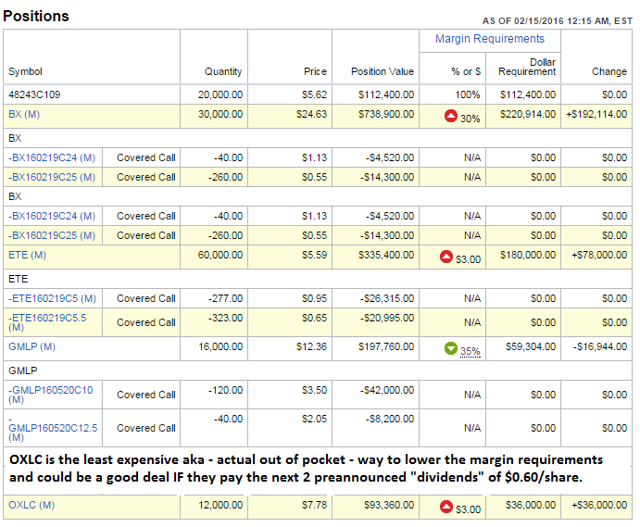 OXLC Distributions Announcement
vs CLM: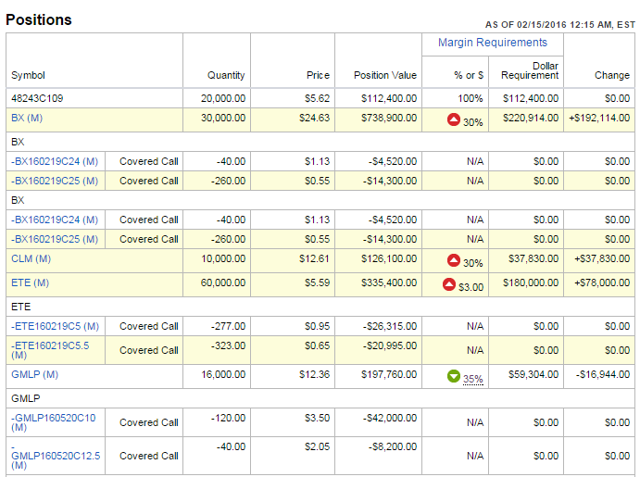 Cornerstone Funds Announce Continuing Monthly Distributions
Maybe I'll have to get both. I think CLM has a better chance of actually paying than OXLC.
I'll use whatever $ is left over to knock out a CC balance to keep the old lady happy.
So.......... We will have to see what Monday brings. War in the Mideast? OPEC making nice? Hillary telling the truth for a change?

Anything can happen.
YRMV
Disclosure: I am/we are long OXLC, CLM, GMLP, ETE, BX.
Additional disclosure: Jealousy is never becoming no matter what state you reside in. Never covet thy neighbors portfolio.