The Moral Of Owning MORL
4/17/2017
I had ~$800 left over from something or other and decided to see what MORL might do if left alone and ignored for 2+ years DRIPping away..
I was able to buy 40 shares @ $20.30/share on 1/24/2014 for a starting value of $811.95. It's now worth ~$1,439.98 as of todays close.
Here's how that worked out.
2016-2017: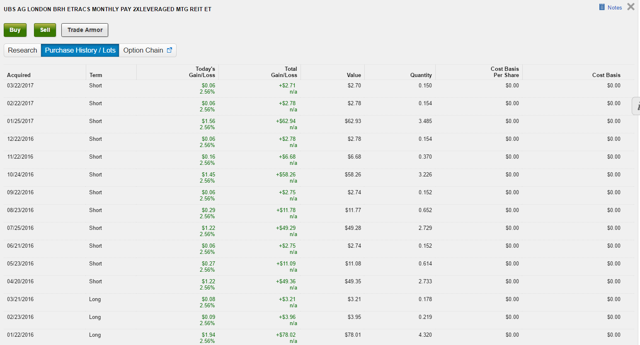 2015:

2014:

Fidelity says the Total Return is:

My calculator says it is +77.21428571428571%
So was a total return to date of +73.46% to +77.21% (depending upon who you trust) over 2.25 years "risky" and "pie in the sky" ?
I don't think so. You might.
And that's what makes a market.
YRMV of course.
Disclosure: I am/we are long TRUMP.
Additional disclosure: Sometimes I wonder what passes for critical thought these days, and then I wake up.