So what happened to Little Dong's rocket launch?
North Korea Preparing For ICBM Launch: Japan Press
North Korea Threatens To "Sink" Japan With Nuclear Weapons, "Reduce The US To Ashes"
But The VIX is still circling the the toilet:
CBOE VOLATILITY INDEX (.VIX)

As of:09/14/2017,  1:48pm

Last Trade [tick]
10.46[+]
 
Prev Close Price
10.50
Net Change
-0.04
 
Prev Close Date
09/13/2017
Net Change %
-0.38%
 
Open
10.57
Day High
11.04
 
Chart | Option Chain
Day Low
10.28
 
Quotes are displayed by Date/Time in Eastern time.


An the Fidelity Margin Calculator is "returning inaccurate information" (ie IT'S BROKEN)
What to do? Trish says the master database says I'm good to go.....(maybe)
So I rolled all my VIX calls down from where they were to the same expiration date (9/20) 11.50 today: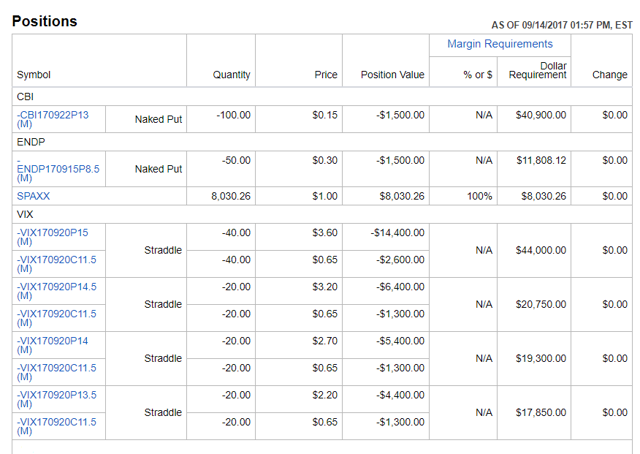 for a net credit: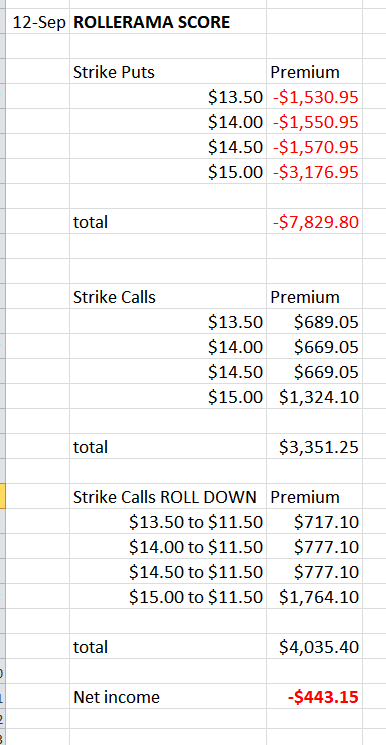 So I'm LESS KILLED than I was before..
Maybe after the ENDP Puts expire tomorrow and the CBI 13 Puts expire next week I'll get braver and buy back some VIX Puts.........
Mmmmmmmmmmmmmmmmmmmmmmm Saltines!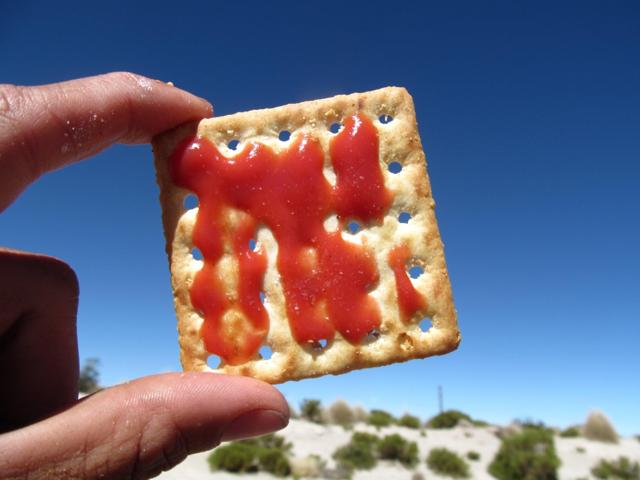 YRMV
Disclosure: I am/we are long CBI, JNUG, ENDP.
Additional disclosure: TradingCat came back to my desk this am.