UPDATE: Due to market forces and a bad cold, this took all week to get from the computer to SA.
To paraphrase: "I admit I am powerless over The Real Wall Street and that my previous 8 lives have become unmanageable, and that I might just have 1 left...."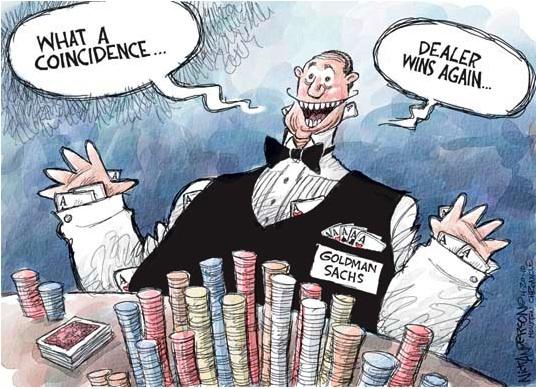 Remember Sam and Al? Long time readers might. I'm not headed to Baja to surf & eat beans while the 2X money machines quietly print in the background, but I am headed to the track while I can still see the corners coming up, and I need to be able to "fill er up" when I get there. It was a fun 8 year run at that table, but it's time to "foldem" rather than "holdem" and go down with the ship.
This past week I had the "a finch in the hand TODAY is worth more to me right now than a potentially phat turkey in that bush just over the ever receding horizon" conversation with someone that might be called the gatekeeper.. Similar to selling your soul to the guy with horns, but with quantifiable numbers and defined terms. I managed to get enough, and with a livable amount of strings attached, (HAHAHA) to close my eyes and make the leap: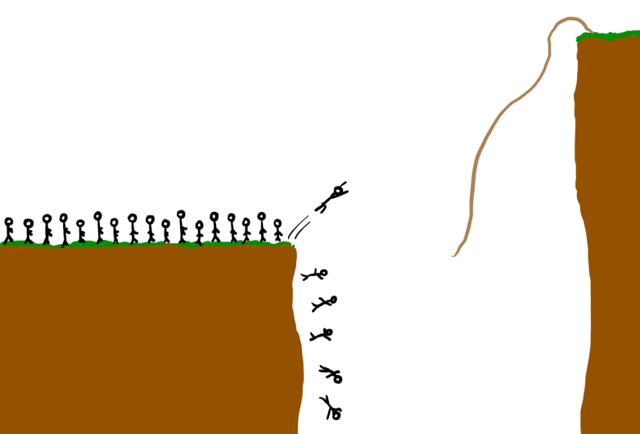 What's at the other end of that rope? 
An OLPP* consisting of 33.33% each of AMZA, SMHB & REML.
(I can just hear it now)
So why pick those?
Condition #1: I have to be able to buy everything and DRIP everything at Fidelity.
Condition #2: They need to be marginable.
Condition #3: The risk score has to be low enough not to burn my fingers off in the first 2 months.  Below is a chart that shows where they are in relation to the S&P 500 and Nasdaq 100. SMHD was used in the charting tool because SMHB has only been around for 2 months, and there was insufficient data to use. They are 99% "identical" ETN's anyway except for some modifications to the customer agreement etc., however Fidelity allows you to buy SMHB and not SMHD apparently due to the changes in the customer agreements? Unclear.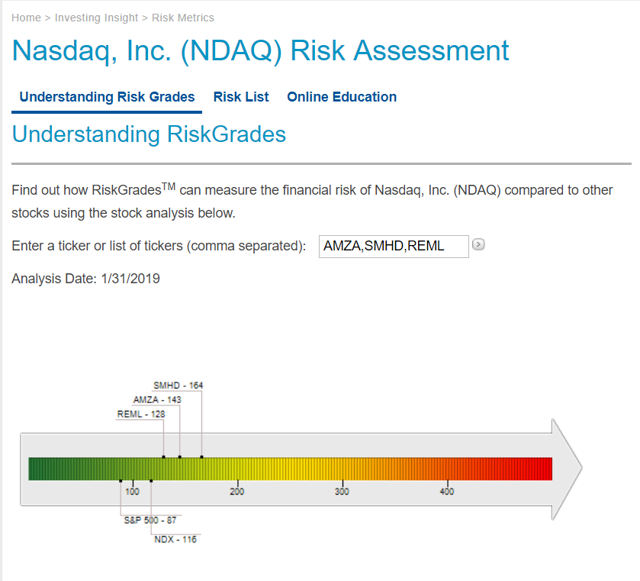 Considering the outsize returns, @12.5 times the 2018 S&P 500 dividend return for less than 2X the risk, (S&P risk number 87, averaged total portfolio risk number 147) the risk levels in a cash account is not that extreme. Calculator here.
Hitting the correlation calculator, (assuming these are still relevant anymore with The Fed Put back in place according to Yellen) they are somewhat correlated:

*The value of a correlation coefficient is between -1 and 1, where 0 represents no correlation between the two symbols, 1 represents perfect positive correlation (prices for both symbols move in the same direction) and -1 represents a perfect negative correlation (prices for both symbols move in opposite directions).
as also indicated here in the price chart: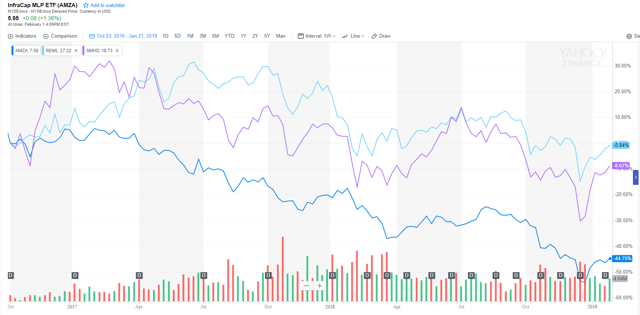 *SMHD used to charting purposes
Which would bad for being too far into the margin pool so I'll need a life preserver if I end up jumping in..
Some discussion in alphabetical order:
AMZA: EX-DIVIDEND DATE ~ Feb 22, 2019 - pay date ~ Feb 28
Yeah yeah, I know it is in the tank after dropping for years and they lowered the dividend and it just sucks and etc. However, for the $3/share margin requirements, it's a tank that might be worth jumping into for a year to see how that will play out and as it seems to be following along with USO for the past 6 months: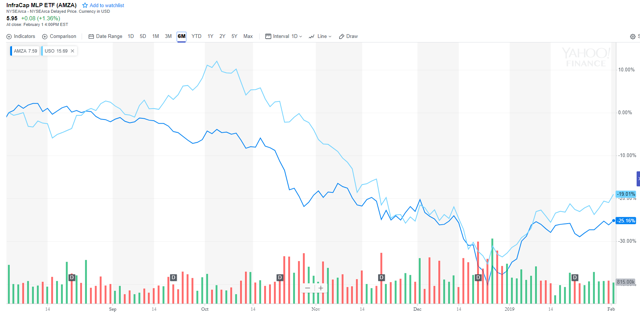 I'll place the bet that is keeps doing that, and sell $6.00 Calls on that position for June 21 & September 17 too just in case: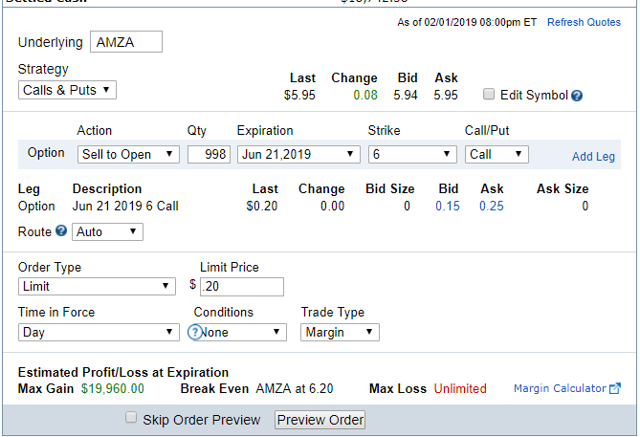 998 options? ARE YOU MAD SAYS 31October?
Yes of course.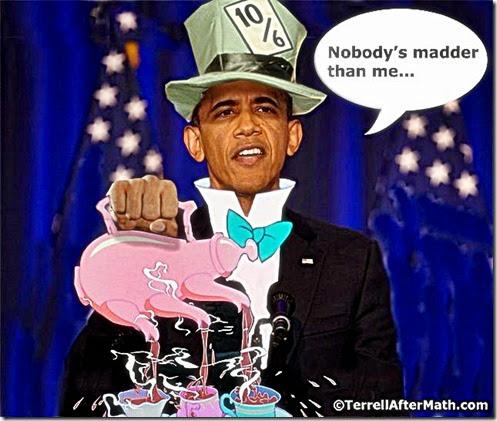 I already had 26, so maybe I'll just do 974 more. OK, Now I have a nice even 1000 Calls.

REML: EX-DIVIDEND DATE ~ Feb 12, 2019 - pay date ~ Feb 24
The Prof covers all of that here.
The next div on REML is really nothing though. Maybe I'll ease into that one between now and the end of March when there is a BTFD opportunity.
SMHB:  EX-DIVIDEND DATE ~ Feb 11, 2019 - pay date ~ Feb 24
SMHB discussed in detail here.
Plenty of charts and discussion and etc, although the calculations on the January distribution he makes are wrong.
Projected January 2019: $0.7650
Actual January 2019: $0.6458
Lets compare and see what the SMHB multiple over SMHD is in real life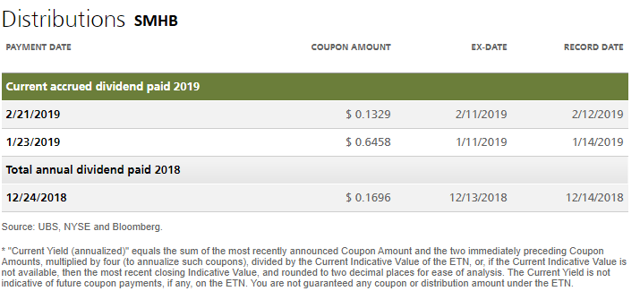 December: 116.24% (not a full month on SMHB? seems that way)
January: 153.06%
February: 153.11%
I like ~153% better! but lets see what the % stock price is
Stock price SMHD vs SMHB = $14.33 vs $21.92 or 152.96%
Ok, so we are apparently all good there.
How will this shake out for me? Total SMHD divs in 2018 = $3.28, so maybe SMHB might do $5.02 if that ratio holds true for the rest of the year.
Starting at 100% equity this is what could happen:
Projected Income if I get the portfolio set up by February 8 so I beat the Xdates etc using this years div numbers: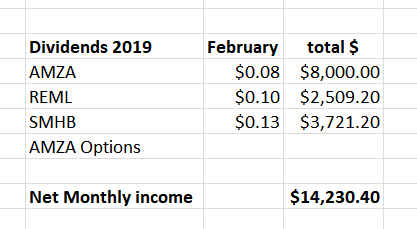 Uggg. That's never going to fly, remember my current burn rate. How can I get to April, (the next "big" month?) I don't even have all the SMHB and no REML yet.
Well there are those June AMZA Call premiums to add back in. 
Step 1: Sell $6.00 Calls on the AMZA.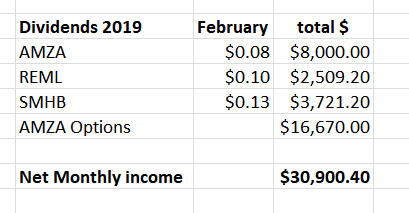 = saved. Except I do not have all the SMHB yet, and none of the REML.
I know, FWP.
After chit chatting with my favorite Maria Barteromo clone (Trish of course) I decided to do the 120% in version, ie going in at ~80% equity and pay off the balance of those pesky bills over the rest of the year since my margin rate is so low..
Step 2: Buy the SMHB. I got a good partial fill yesterday at $21.85. Today I'm just chasing it all over. I was $0.0011 away from a fill at the low this am, I guess it was just there for 0.000001 seconds, faster than I could type anyway. Still wanting to get that today as the ex-date is the 11th. Maybe everyone else is too, but the market is dropping again and maybe it will follow....(update: didn't happen)
Step 3: buy the REML on the dip (if there is one) between now and April 8th as my option positions expire, or I buy them back or whatever.
So that leg's on hold for now since the projected distributions for February and March are so low.
What could this generate once in place? Based on the following ASSumptions:
that AMZA pays it's monthly $0.08 for the year ($0.96/share) and
I can roll out the AMZA Calls in June 6 months for at least $0.10 and
that SMHB pays 1.53 times what SMHD did in 2018 (~$5.00/share) and
I get all the REML below $25.00 and it pays what it did in 2018 ($5.28/share) and
I get the average share prices used in the spread (or lower) and
I can do all of that and stay at 80% equity or higher
Then I get here: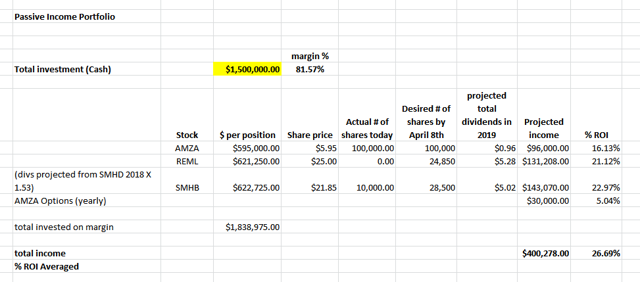 How's that working so far?

Light blue = shoulda coulda woulda if fully funded
Black = actual delivered income based on the # of shares I have in hand.
Clearly March will be a little "lite" even if I am all in by then and the 4 "big months" will need to support the 8 smaller months by income averaging. But I need a big month to happen before I can do that. Lucky me I was able to front load February by blowing out those AMZA options.

I'm hoping flipping the HCLP (2/15) and FIT (2/22) positions will take up the slack for March.

Selling some AKS $3.00 Puts after it tanked last week is also looking like it might be a fun trade for a week or 2.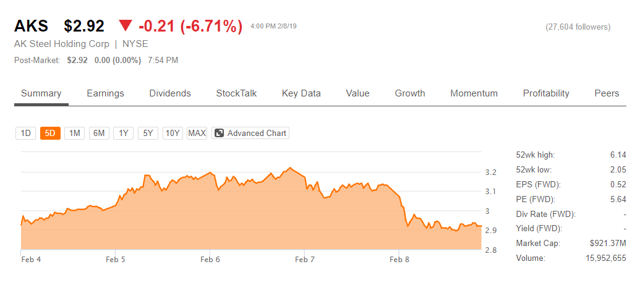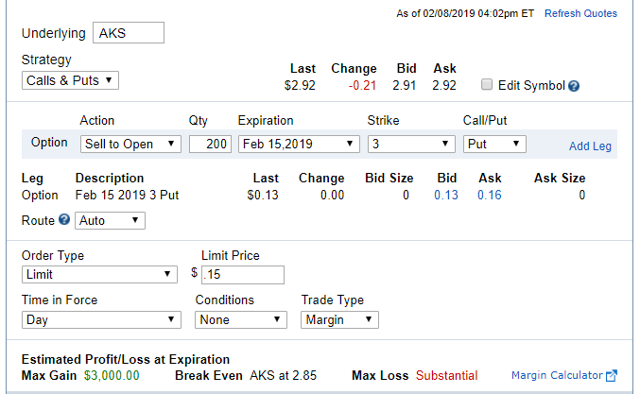 If I can get $0.15/contract at the open Monday that's an effective 7.97% for a week.

..........and Futures are slightly red as I hit the publish button.
YRMV
*Old Ladies Passive Portfolio