Things happen as you get older that make you think more about exactly what you are doing with yourself, like watching your parent pass away. Since I'm now down to 0 parents left, I decided to forget about trying to catch that daily trading high...
...and set up something that could run on semi auto pilot and then spend more time walking the doggie and racing the cars. I might even help the old lady fold the laundry too.
The proposed three legged stool retirement plan is discussed a little here, and all of what's left of the old Fidelity account is finally over at Chuckie Cheese as of Monday at the open (so they tell me).
Sadly Schwab says that SMHB is a 100% margin required or "cash" 'stock' while REML is 50% and AMZA is 30%. That complicates the fudging factor calculations a tad, but the goal is still the same, to start off with ~$600K of market value of each initially. How much actual cash will that require now that I've been kicked to the curb by Fidelity?? I might actually have to ask a person to help me figure it out.
The prices are a bit lower than before I started the transfer process:
AMZA My current average cost per share is $5.96.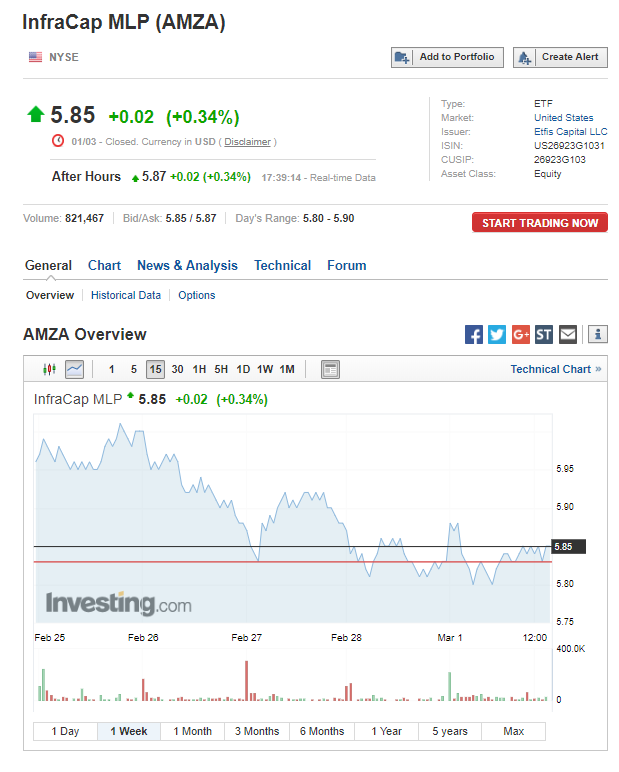 REML My current average cost per share is $24.61.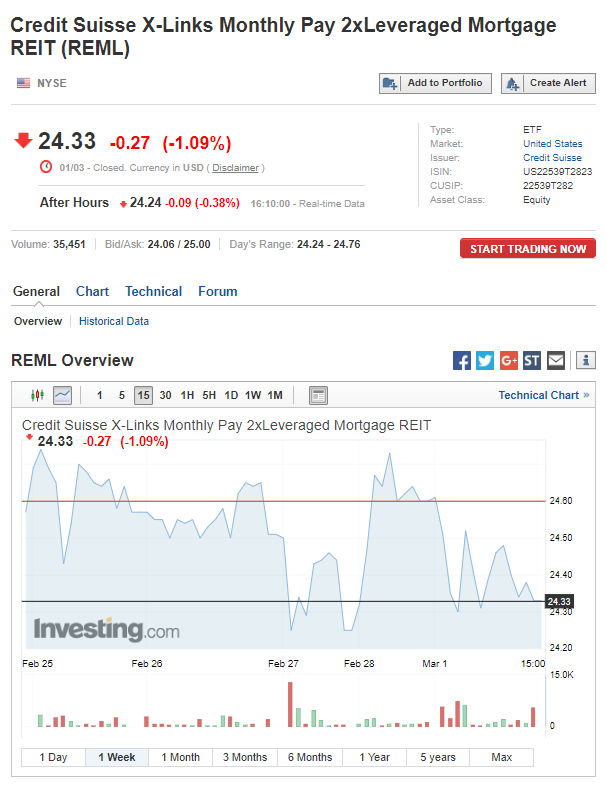 SMHB My current average cost per share is $21.84.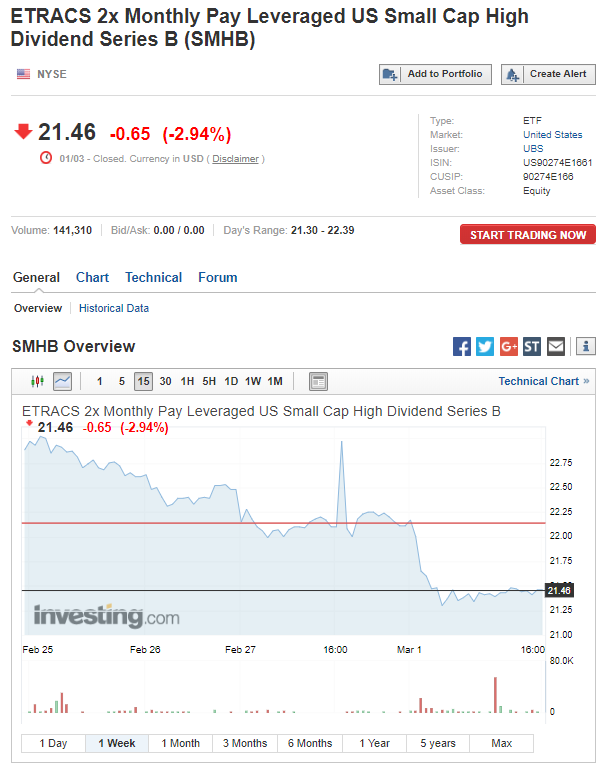 Looks like the next buy will be SMHB as the March Div ought to be ~$0.1583 which is a lot more than the projected Div for REML; $0.0650. I think I have just enough cash to get it all without having to close any of the left over option positions that transferred over depending on the actual prices Monday. Still no firm commitment on my actual effective margin rate schedule, so I'm not jumping in till I see that reflected in my account, and until I figure out if Schwab has a "paper trade" margin calculator that looks at your account in real time or not. I have not found it yet. If you have please put the link in the comments section below this blog post.
Today: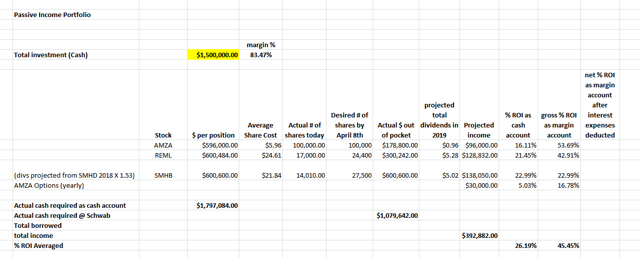 Amazingly that pile of fiat will only produce $11,322 or so in March with the current number of shares that I have. Even fully in it's just ~$14K. I have to get to April, the "BIG MONTH" for REML & SMHB to get a big paycheck. It ought to be around $59K if I'm fully invested, which will allow for me to transfer around $15K each to May & June so that I can average ~$29K per month which is just enough more than I "need" so that the monthly debt paydowns can continue. 
I prepaid a few things and held back some cash from the account transfer this month in case things got out of control over there at Fidelity so I just have to get $5,443 more in to get through March: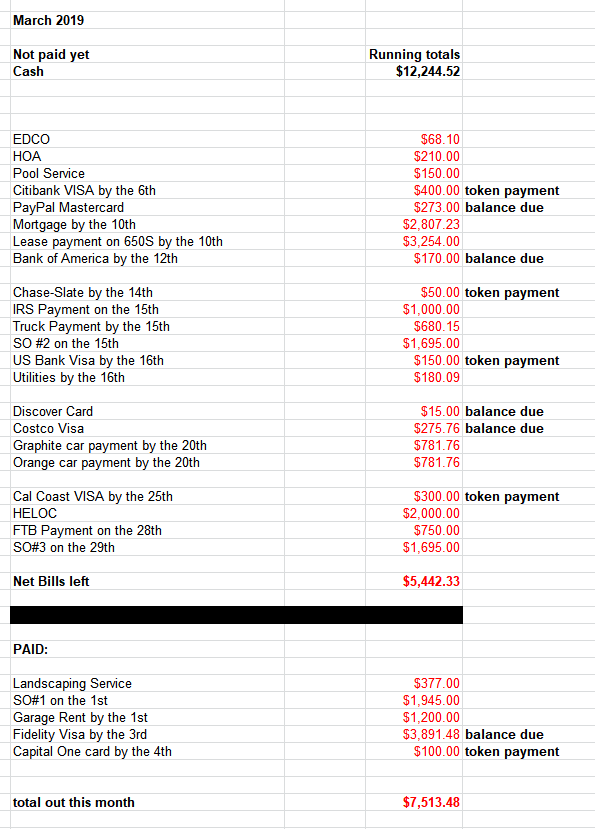 So this month is covered with the cash on hand and Divs I know have coming in. Of course all the Divs come in the same week at the end of the month so I need to stay ahead of myself. Currently with the shares I have I ought to get this: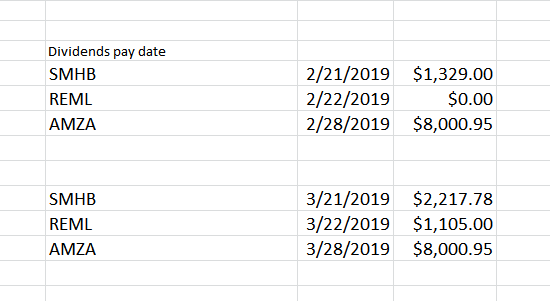 If I can get all the shares I want before this months x-dates that will grow a little to this:

but I'll have to really try and stay on "budget" until the end of April for this plan to work. Uggg, I hate that B word. Maybe I can still do a few weekly options plays on the side until then to fill in the gaps.. Actually I'll need too since I will not get that $59K until 3 weeks after I need it in April. And I'll need to find the $ to "rebalance" at the end of March too. Maybe I'll do that on margin, if I get the deal I think I'm getting.. If not, like the black knight, I've run out of souls and body parts to sell, and will have to continue on with mostly a lot of hot air until things settle out..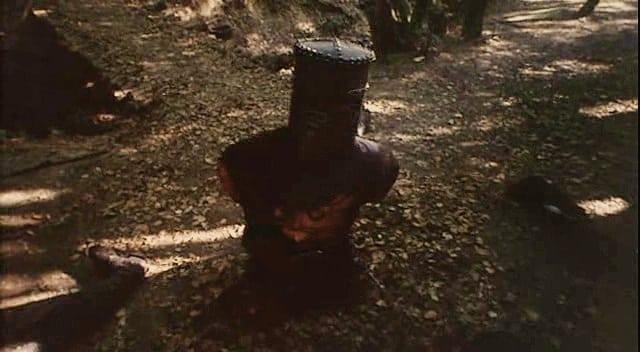 Fingers crossed that it all works as projected:

YRMV
PS: More on the real Harry here.
Disclosure: I am/we are long REML, AMZA, MRRL, SMHB.