As the rising waters of a short covering Fed inspired rally lifted all the boats in my portfolio today (except for my UVXY Calls which dropped by over $2 - YAY!) I decided to roll out some stuff, and buy some stuff. All my buying centered around averaging down on the income producing mREIT NLY. I now am the proud father of 50,000 shares.

It's now 19.98% of my portfolio. Amazing.
If you look at the last column figure you see $9.35, that's my average cost before Call premiums are deducted, so lets do that.
Here's all of them:
$2,963.33
$2,763.33
$2,397.00
$11,887.44
$526.53
$2,632.63
$658.17
$11,666.81
-$572.95
$2,487.00
= $37,409.29 net credit.
divided by 50,0000 shares = $0.7481 credit per share or $9.35 - $0.7481 = $8.6019 net cost per share in a cash account.
$1.00/share dividend X 50,0000 shares = $50,000.00 income.
= 11.62 % yield on adjusted cost in a cash account.. 
Of course I'm in a portfolio margin account, so I gotta better yield. Here's what my holdbacks look like: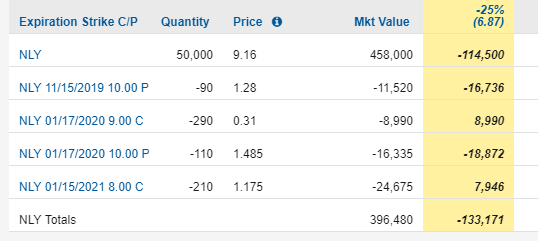 So those shares actually cost me $114,500.00 or $2.29 each.
$2.29 less the net premium credits of $0.7481/share = $1.5419/share net adjusted cost.
$1.00 div on actual $1.5419 share cost = 64.85% return.
yeah yeah I have to pay some margin interest. How much is that?
My margin interest rate is 3.48% until the Fed cuts, and then it will be less.
So what am I paying? 
Well they loan me $6.31/share X 50,000 shares = $315,500.00. 
3.48% of $315,500.00 = $10,979.40/year.
So what am I really making?
$50,000.00 Income
- $10,979.40 margin interest
= $39,020.60 net income.
= 50.6136% actual net return on capital invested.
Not too bad for an old fat bald guy with alzheimer's.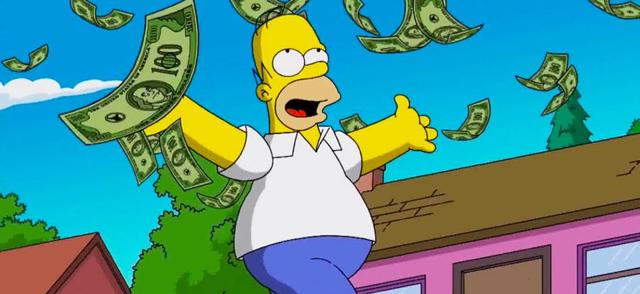 "..BUT WHAT ABOUT THEM PUTS?.." yells someone from the bleachers.
I left them out of the calcs as they will get rolled out a year before I'm wearing them and you do not get dividends on Options.. I did collect a nice premium when I sold them though:
$10 Puts for 1/1/2020:

= $18,872 holdback - $10,299.52 premium = $54.57% return
$10.00 Puts for 11/15/2019:

= $16,736.00 holdback - $4,556.95 = 27.22% return
So if they ever are put to me the net share cost will be lower than $10.00
As always...........
YRMV
PS: I bought some more today (6/4). Average share cost now $9.31.
PSS: I bought some more today (6/6). Average share cost now $9.26. 
Disclosure: I am/we are long AMZA, UVXY, NLY, REML, SMHB.