Rigel Pharmaceuticals: Is Poised For Significant Upside
Please Note: Blog posts are not selected, edited or screened by Seeking Alpha editors.
Seeking Alpha Analyst Since 2019
Flavio Sanguinetti is currently a CFA Level 1 scholarship recipient and candidate. He double-majored in Economics and Marketing and double-minored in Computer Science & Finance at East Tennessee State University (ETSU). As a member of the ETSU team, at the Tennessee Valley Authority (TVA) 2019 Investment Challenge, he helped manage the investment portfolio thorough analysis and stock recommendations, which led to the portfolio outperforming the S&P 500 by 9% producing a return of 39.06% and was selected as top performing portfolio out of 25 other universities. He also participated in the CFA Investment Challenge in 2019 and represented his respective university. He Led a 4-person team in creating a sell-side valuation report for Louisiana-Pacific Holdings (NYSE: LPX) that used Discounted Cash Flows Model, 3-Stage Residual Income Model, Relative Valuations, and Macrotrend Analysis - which resulted in the team achieving top-tier and placing in the top 3 out of the participating universities. This year he became a member of the Financial Management Association (FMA) National Honor Society and attended the Finance Leadership Conference in New York City.
Summary
Second quarter net product sales of $15.0 million, a year-over-year increase of 47%.
Rigel reported total revenues of $71.8 million for the six months ended June 30, 2020, compared to $23.0 million for the same period in 2019.
Rigel announced a Phase 2 investigator-sponsored trial (IST) with Imperial College London to evaluate the efficacy of fostamatinib for the treatment of COVID-19 pneumonia.
Forecasted 15% revenue growth and potential 192.68% upside reward.
Business Overview
Rigel Pharmaceuticals, Inc., is a biotechnology company dedicated to discovering, developing and providing novel small molecule drugs that significantly improve the lives of patients with immune and hematologic disorders, cancer and rare diseases. Rigel's pioneering research focuses on signaling pathways that are critical to disease mechanisms. The company's first FDA approved product is TAVALISSE® (fostamatinib disodium hexahydrate) tablets, the only oral spleen tyrosine kinase (SYK) inhibitor, for the treatment of adult patients with chronic immune thrombocytopenia who have had an insufficient response to a previous treatment. The product has been approved by the European Commission for the treatment of chronic immune thrombocytopenia in adult patients who are refractory to other treatments and is marketed in Europe under the name TAVLESSE® (fostamatinib
Pipeline Overview: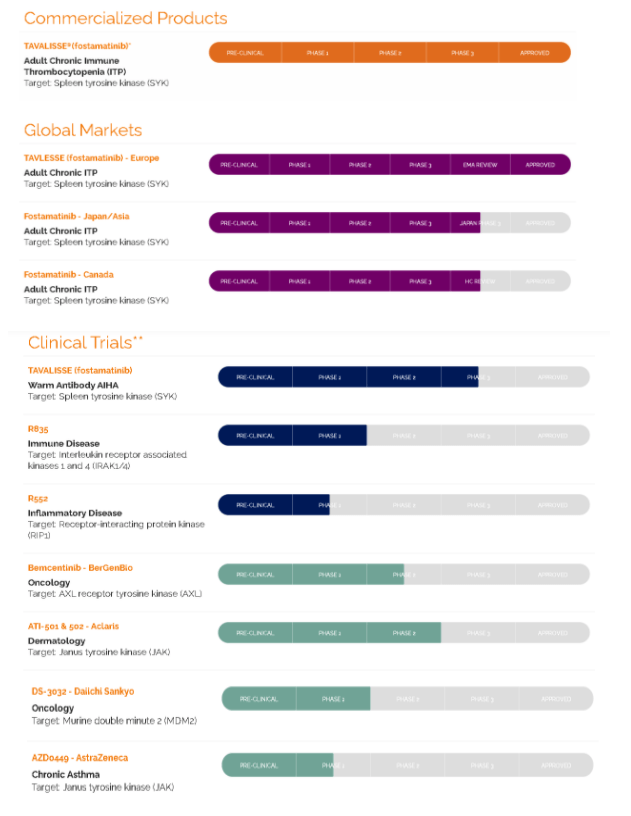 Retrieved from: Pipeline - Rigel Pharmaceuticals
Current Trials:
Investigator-Sponsored Trials: Imperial College of London
Rigel announced a Phase 2 investigator-sponsored trial (IST) with Imperial College London to evaluate the efficacy of fostamatinib for the treatment of COVID-19 pneumonia.
SYK is a key mediator of immunoreceptor signaling in a host of inflammatory cells. By inhibiting SYK, fostamatinib may specifically inhibit the infiltration and activation of monocytes and neutrophils in the lungs that are prominent in COVID-19. The primary objective will be to determine the efficacy of fostamatinib and ruxolitinib compared to standard of care to reduce the proportion of hospitalized patients progressing from mild or moderate to severe COVID-19 pneumonia.
UNIVERSITY OF AMSTERDAM IN VITRO STUDIES
Recent in vitro studies led by the Amsterdam University Medical Center at the University of Amsterdam, showed that R406, the active metabolite of fostamatinib, blocked macrophage hyperinflammatory responses to a combination of immune complexes formed by anti-Spike IgG in serum from severe COVID-19 patients. Anti-Spike IgG levels are known to correlate with the severity of COVID-19. These results suggest that by inhibiting anti-Spike IgG-mediated hyper inflammation, R406 could potentially play a role in the prevention of cytokine storms as well as pulmonary edema and thrombosis associated with severe COVID-19.
MIT HARVARD STUDY
Researchers at The Broad Institute of the Massachusetts Institute of Technology (MIT) and Harvard recently screened 3,713 FDA-approved compounds that reduce the abundance of a protein called mucin-1 (MUC1), a biomarker to predict the development of acute lung injury and acute respiratory distress syndrome. Fostamatinib was the only one that qualified, demonstrating preferential depletion of MUC1 from epithelial cells without affecting cell viability.
Drug Repurposing for COVID-19
Drug repurposing is the only method capable of delivering treatments on the shortened time-scale required for patients afflicted with lung disease arising from SARS-CoV-2 infection. Drug repurposing is an emerging strategy where existing medicines, having already been tested safe in humans, are redeployed to combat difficult-to-treat diseases. While using such repurposed drugs individually may ultimately not yield a significant clinical benefit, carefully combined cocktails could be very effective, as was for HIV in the 1990s; the urgent question now being which combination. Due to the emergence in the demand for drug repurposing it has allowed RIGL to be well-positioned to reap the rewards. In a recent press release, Rigel announced the start of an Investigator-Sponsored Trial, to test Fostamatinib's efficiency with patients with COVID-19 pneumonia. In addition, researchers at The Broad Institute of the Massachusetts Institute of Technology (MIT) and Harvard led a recent screen to identify FDA-approved compounds that reduce mucin-1 (MUC1) protein abundance. MUC1 is a biomarker used to predict the development of ALI and ARDS and correlates with poor clinical outcomes. Of the 3,713 compounds that were screened, fostamatinib was the only compound identified which both decreased expression of MUC1 and is FDA approved. RIGL has the capability to roll out a quick COVID-19 treatment due to their scalability capabilities - their manufacturing and distribution ecosystems will allow for scalable growth. In a recent conference call, it was stated that Fostamatinib is the only SYK that may interfere with the pathology of COVID-19 at multiple points through multiple cell types and could, therefore, work in COVID-19 related organ damage, pneumonia and also ARDS of viral and other etiology.
Sales Forecast:
In a recent statement, RIGL announced an increase in net product sales by 57%. RIGL is well positioned to continue to increase their sales at a substantial growth rate. With fostamatinib ready for commercialization in both the United States and in Europe, it will allow RIGL to realize a significant increase in sales. Analysts are estimating, ceteris peribus, that Rigel Pharmaceuticals, will increase their sales 80-90% YoY - although this forecasted growth is attractive, it is safer to be more conservative. In order to get a better understanding of previous sales growth, we calculated the theoretical average growth rate for a 10-year period - quarterly - of 12.5-15% or 50-60% YoY. This is assuming Rigel Pharmaceuticals will continue to achieve their respective milestones. Note that the theoretical average growth of, 50%, is a relatively conservative growth rate with a -38% difference when compared to the high of analyst estimates - this was done purposely in order to leave some room for margin of error.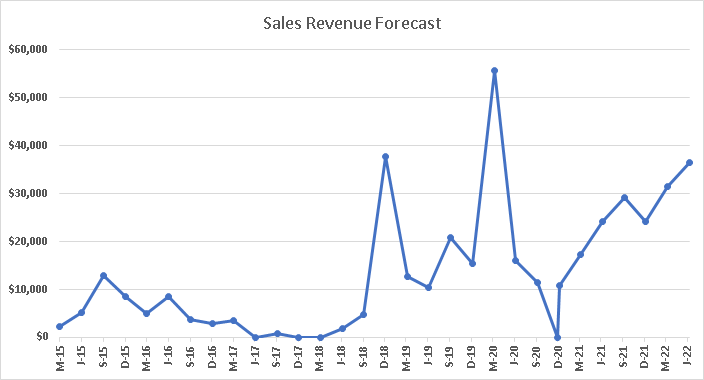 Cash Flows:
Quarterly Perspective:
Through the usage of the proforma of IS and BS in the next six quarters, we were able to produce this forecasted Cash Flow Income Statement visualization.We used the results from the previous step for revenue prediction.
Taking into account the mass production of Fostamatinib after facing the public, depreciation derives the quarterly growth rates of 50%, 30%, 25%, 15%, and 10% until the end of 2021. On one hand, with the current high rate of outbreak cases, the introduction of any treatment plan related to the COVID-19 will cause either large or small market fluctuations. On the other hand, the average growth rates for the past four quarters was 66.27%. We used 50% for the next quarter of the max rate to remain conservative. Cost of goods sold and depreciation remains unchanged, per quarterly-basis of 26%. The results are as follows:

From the table, the negative cash flow will only last for one quarter. From the fourth quarter of 2020 to the fourth quarter of 2021, cash flow will increase by 1.14 times. Therefore, from the analysis of the quarterly table, we are optimistic about RIGL.
Annual Perspective:
In order to more accurately judge the development trend and prospects of RIGL, we have also made a cash flow forecast based on the year. The results are follows:

By using the 60%, 30%, 25%, 20%,15% and 12% revenue growth rate, based on the analysis it indicates that their cash flow will turn positive in 2023, assuming cost of goods sold and depreciation remain unchanged. Judging from the annual cash flow table, RIGL's prospects are also relatively optimistic.
Historical Performance
Rigel Pharmaceuticals has experienced some significant volatility in the past year. The 52-week range for RIGL's stock price ranges from a low of $1.23 to a high of $5.24, with a current price of $2.46. Rigel Pharmaceuticals has experienced an annualized volatility of 121%. Annualized returns are used to track the financial performance of a respective stock. This allows for an investor to get a better perspective by depicting the measure of risk/volatility of a given investment.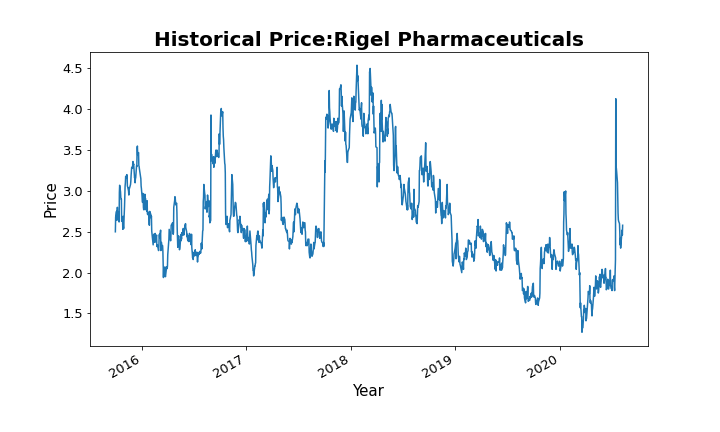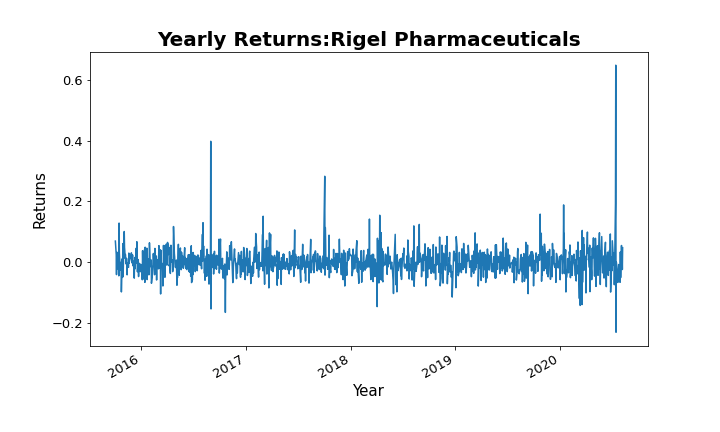 Monte Carlo Simulation:
In order to dive deeper in the massive amounts of data, a simple monte carlo simulation was used to depict the potential price upside and/or downside that an investor may experience in the short-term. This respective statistical analysis is leveraged through historical prices and volatility, which were used in the 1000 scenarios ran by the model. Based on the model, which is done with a 90% confidence interval, investors can potentially reap a significant upside in the short-term. The figures have shown an optimistic result.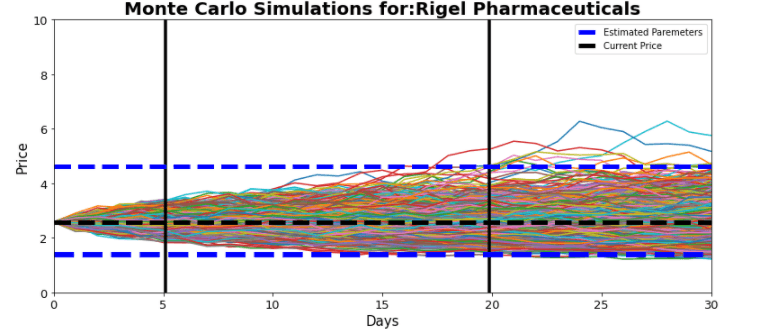 More Thoughts:
Analysts have shown a significant interest in Rigel Pharmaceuticals and have a more favorable opinion of the company. Analysts seem to be optimistic regarding the potential upside reward when compared to the current price.In order to get a better sense on analyst estimates, the average price target was derived through a consensus of analyst forecasts. Based on the research conducted, the average analyst believes that Rigel Pharmaceuticals will reach $7.20 per share in a respective trading year, representing a potential upside of 192.68%.
External 1-year Price Targets

$8.00

$7.00

$6.00

$8.00

$7.00

Average 1-year Price Target

$7.20
Analyst's Disclosure: I am/we are long RIGL.
Seeking Alpha's Disclosure: Past performance is no guarantee of future results. No recommendation or advice is being given as to whether any investment is suitable for a particular investor. Any views or opinions expressed above may not reflect those of Seeking Alpha as a whole. Seeking Alpha is not a licensed securities dealer, broker or US investment adviser or investment bank. Our analysts are third party authors that include both professional investors and individual investors who may not be licensed or certified by any institute or regulatory body.