From
The Political Commentator
, written by Michael Haltman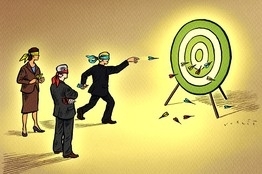 Maybe the analysts that provide investors with those earnings estimates are not very good at doing their jobs!
It's that time again when publicly traded companies present their work and the markets grade them by sending their stock prices either higher or lower.
It seems to me however that very often, and particularly on big name companies, analysts don't get that close.
Third behind weathermen and economists, Wall Street analysts just can't seem to get it right. Again, at least not very often.
Watching the cavalcade of earnings that are being released and the number of "earnings surprises," maybe these guys rely on guidance from the company's a little to much instead of doing it the way it was done in the good old days.
That's when analysts were analysts and actually did the legwork to come up with anearnings estimate.
If you rely on a company to "guide" you to an estimate, that is not really analysis. It is more like being a shill for the firm.


 
Delivery options for The Political Commentator (free of course):