What should you look for when analyzing a systematic trading plan? The obvious answer is profit.  The answer is more than just the ending P&L. How did you get there? What kind of market are you looking at during the test period?
The last 10 years is a great period for evaluating system trading performance.
 There was the down market of 2000 – 2002
The rise from March 2003 – December 2003
Then a period of stagnate market during 2004 – 2007
The crash of the financial markets in 2008
Followed by the rise from March 2009 to present
Let's look at trading the EWJ Japan ETF from January 12 2001 to November 12 2009
Here are the facts of this method –
An average gain of 11% per year
A gain during the period of 98%
A Buy and Hold loss of 10% over the period
An average of 42 trades per year
A winning percentage of 57% to 43% losers
An average winning trade profit of $1242
An average losing trade loss of $1368
A picture of the equity curve (top panel) over the EWJ price chart (lower panel) has a positive sloping graph throughout the period.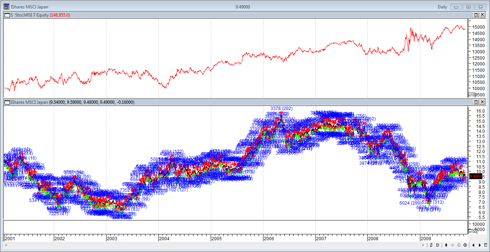 This is a trading system that is always in the market long or short  over the last  8 years.
We all can agree that "Buy and Hold" does not work. This chart of the EWJ ETF proves that!
There are periods of time as can be expected that the systematic trading plan either does not produce gains or may underperform. This would be realistic for any trading system over 8 years or 3200 days of testing. 
But all in all, I feel I could trade this plan. 
I feel that my clients could accept this performance.
If traders, money managers, and advisors considered these factors before choosing a trading plan, the discipline of staying the course would be easier. It is typical for inexperienced systematic traders to discard a good plan or feel that it stopped working if this type of analysis is not completed.
If you have questions on systematic trading and trading plans, summit them to Mark Seleznov mark@seleznovcapitaladvisors.com