A systematic trading plan built around returning to the mean, would have produced 74 points of trading profit on a stock that is $53.66 today. Wal-Mart was 54.75 on November 11, 1998.
Wal-Mart, WMT is one of the most widely held stocks. Thousands of man hours of research have been spent in the last 10 years analyzing the stock. Analyst's ratings of Buy, Strong Buy, neutral, and Sell have investors reacting to a stock that really just oscillates around the mean and goes nowhere.
Since Wal-Mart, WMT does not trend and price movement up or down seems to return to the mean, a trader using technical analysis would be better using any of the oscillator based trading plans. 
Buy and Hold? Not for me. If you are going to trade Wal-Mart, WMT use a systematic trading plan that can have the potential to make some money!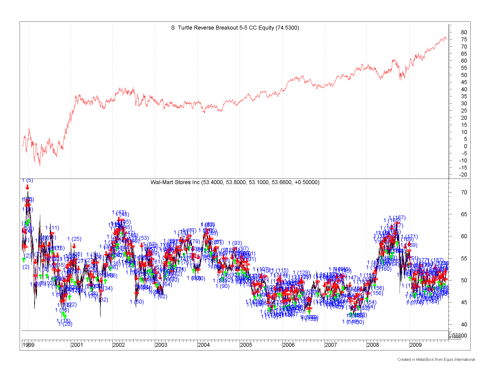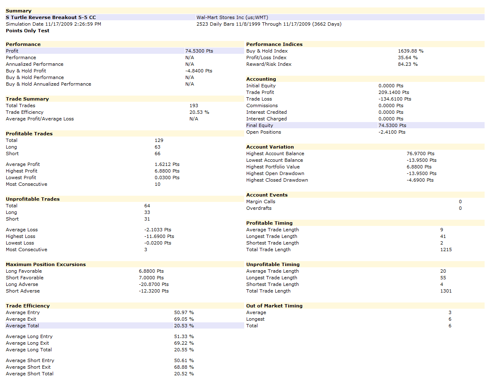 Wal-Mart, WMT is an example of a large cap stock that has a tendency to trade around the mean. A trader could not use a trend following technical trading plan for Wal-Mart, WMT. For example, using a 50 day moving average trading system or a 200 day moving average system would have resulted in over 100 points of losses during this time.
Systematic trading on a stock, ETF or asset offers trading opportunities in trending and non trending assets. The key is to determine what is the primary characteristic of the stock or asset you are trading.
For research on the stock or asset you are trading, mark@seleznovcapitaladvisors.com
Disclosure:  No direct holdings in Wal-Mart, WMT.  It may be held long or short in ETF's.