The best trading system changes over time.  If you compare even a small number of different systems, there will be periods of underperformance and periods of extreme overperformance for market timing any particular Index, stock or commodity. During periods of congestion, a reversion to the mean or oscillator based trading system will outperform. During an extended trend, the trend following trading system will outperform.
It is dangerous to use short term results and project that the results will continue in the future. Any systematic trading plan has a bias to either Trend Following or Swing Trading for that trading plan to keep outperforming. Fundamental Analysts make this mistake by saying "Since the last 4 quarters of earnings increased 10% each quarter, therefore the company will increase profits the next 4 quarters"
There are two approaches a trader can try to use to help themselves.
1.

      
 Determine the major trading characteristic of the asset – Either Trend or Swing
2.

      
Anticipate the current market conditions – Either consolidation or Trend
If you believe that the S&P 500 will continue in a relatively sideways pattern, the only way you can make money is by using a Swing Trading plan. A moving average system, channel breakout system, or other trend following plans will create numerous whipsaws and cause a loss of capital.
If you expect a crash in the markets, do not use a Swing Trading Plan, but use a Trend Following plan that will provide signals on a market breakdown and follow the trend until it ends.   A Swing Trading Plan will Buy when the market is falling, and expect periodic bounces up, at which time it will Sell Short again.
The S&P 500, SPY SPDR over a longer period of time has shown to trade better with Swing or oscillator trading plans. I would say that Swing is the major trading characteristic of the S&P 500 Index. It is now outperforming other strategies. This Trading Plan underperformed during the September-October 2008 major down move and again during the January-February 2009 straight down move for the Index.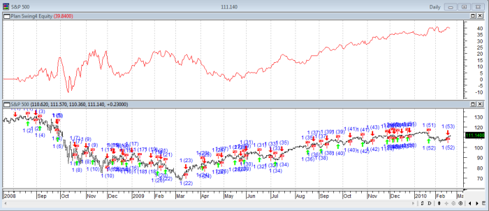 It has hit new equity highs in the past week, despite a flat to down market over the past month. Since the middle of May 2009, the SPY is up about 22 points. Since the middle of May 2009 until February 19, 2010, the Swing Plan 4 is up about 35 points.
Trading Position Report from Metastock
Remember, past performance is no guarantee of future results.  The best trading system this month may not be the best trading system next month.