Summary
Palladon Ventures (pllvf.pk) is a Canadian firm with an interest in several mining projects in Utah and Nevada.  The largest project is a storied iron mine located in Cedar City Utah that has reserves of over 170 million tons, making it the largest (and one of the only) iron ore reserves in the Western United States.  The mine, called the Iron Mountain project, would potentially produce 2 million tons of 67.5% concentrated grade iron ore pellets per year for potentially a 40-50 year stretch.  Palladon has already secured rail and ship contracts, and has also found a buyer of at least  1.2 million tons of previously mined run-of-mill ore.  The purchaser is none other than China's largest steel manufacturer, Hebei Iron and Steel.  If Palladon can meet its goal of shipping up to 2 million tons per year starting in 2012, then net earnings could potentially exceed Palladon's current share price of $1.15 (share price as of close of market on 2/25/10).   This article will look at the history of the Iron Mountain Mine, the recent developments surrounding Palladon Ventures and CML Metals, and will conclude with a discussion on valuation and risk.  
Brief History: 1849 - 2004

Iron Mountain is located in the South West corner of Utah close to Cedar City, see the map below. The mine was first discovered by Mormon pioneers in 1849, and was used for commercial production for several years till significant discoveries in the Mesabi region of Minnesota flooded the market with a more economically viable iron material.  The Iron Mountain project sat idle until the early 1900's when a renewed interest in base materials like iron ore for construction projects occurred.  In 1923 the mine was reopened, and produced over 4 million tons until it shuttered again in 1942.  After a short mothball period, the plant was reopened during World War II, and produced over 60 million tons before closing again in 1961.  During this phase, the plant sold the majority of it's iron ore to a steel plant built in Provo Utah, that was subsidized by the U.S. Government.  The steel plant was eventually jointly owned and operated by Geneva Steel and U.S. Steel (NYSE:
X
).  
       From 1962 to 1995, the Iron Mountain project mined and shipped approximately 9 million tons that was mostly purchased by the steel plant in Provo.  By 1987, U.S. Steel sold it's ownership stake in the plant to Geneva, and Geneva also acquired the rights to the Iron Mountain project around the same time.  Also, of note during this period from 1987-1995 is that the Gilbert Development company became the Iron Mountain mine operator.  After 1995, the steel company saw major headwinds, and eventually after a series of bankruptcies finally shut down operations for good and filed Chapter 11 in 2002.  In the bankruptcy filing the Iron Mountain project was spun off as a separate company called IOM, which was eventually purchased in full by Palladon Ventures.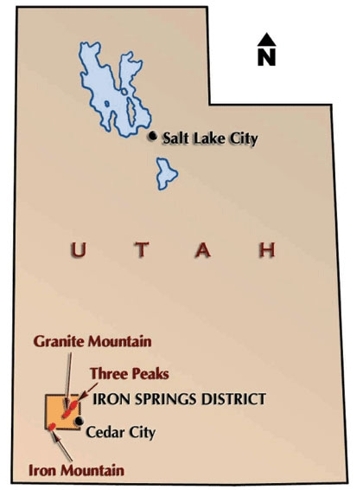 Brief History: 2005-2009

Palladon Ventures led by CEO John Cutler acquired the Iron Mountain property with the hopes of making the iron pit a viable business again.  Palladon felt that they could bring the pit back on line by 2006, and potentially sell 1 million tons a year of mined iron ore there after.  Palladon had again enlisted the Gilbert Development Company to help run the operations of the mine.  Unfortunately, despite Palladon's best efforts macro economic headwinds and difficulty with logistics hampered the company from being able to sell their iron ore. 
      Palladon's plan in 2006 was to sell 12.9 million tons of stock piled 40.2% grade iron ore to customers abroad at a rate of 1 million tons a year.  Gilbert Development would be in charge of trucking the ore to a rail road spur that connected to Cedar City's rail road station.  Upon arriving at Cedar City, the ore would then be shipped by Union Pacific to a port on the West Coast.  Once at the port the iron ore would be stored in a warehouse, and then would be loaded onto ships owned by China Kingdom International, and sent off to a Chinese steel firm.  In order to make this plan work, the company had to build the railroad spur, strike a deal with Union Pacific and China Kingdom International in order to secure carriage, secure a port in California, and make sure to find a customer willing to purchase the low grade iron ore.  Additionally, Palladon had to do further diligence on it's iron ore properties.  In order to get all of this done, Palladon took on a great amount of debt at a high interest rate.                               

(Source: Palladon Ventures)
      Luxor Capital Group stepped in and provided the capital for Palladon to continue with its plan.  Palladon was able to build the necessary Rail Road Spur, and was able to negotiate with Union Pacific to secure rail road cars and transportation of freight.   Palladon was even able to find a port in Oakland, where China International Kingdom would ship the iron ore to a customer in Asia.   Unfortunately, production got pushed back, and then the 2007 and 2008 financial crisis occurred.  Production got pushed even further back, till finally in 2009 the company was able to set up a contract with Hebei to purchase a modest amount of iron ore.  Then at the last minute, the port of Oakland said that it could not provide a location to store the iron ore.  Without storage facilities at the port the deal fell through.  
       The fallout from this reshaped the company. Palladon scrambled to come up with a new plan, and asked SRK consulting group to help them come up with a plan (see links below for SRK's recommendations).  The plan recommended that Palladon take on even greater debt to construct an iron ore concentrator as well as a Direct Reduced Iron plant.  This plan also fell through.  Luxor grew impatient, and eventually took charge and asked Palladon to hand over the reins of the company.  In the wake of the debt restructuring A new joint partnership was formed called Comstock Mountain Lion Metals, or CML Metals for short.  The partnership allowed Palladon's debt to be retired in exchange for a 78.7% stake in CML.  Dale Gilbert of Gilbert Development became the CEO of CML Metals, and Palladon was relegated to a 21.3% stake in CML.  John Cutler and one other staff member were allowed to remain on at Palladon, but all other corporate officers were asked to leave.  After the reorganization Palladon had two employees, no debt, and a cash burn rate of approximately $30,000 a month.  
       After taking control of the company CML wanted to change direction, but only slightly.  CML's  plan was to build an iron ore concentrator on site to take advantage of the large deposits of taconite at Iron Mountain, however CML had no interest in building the DRI plant.  Similar to the 2006 plan, CML was hoping to improve the logistics, and sell the concentrated iron ore to the Asian market. The concentrator would cost about $65 million, but would potentially allow CML to ship out 2 million tons of iron ore a year.  Before CML would buy and build the concentrator, they would first have to prove that they could follow through with the shipping logistics. 
Current Events: 2010 - Present
In the first quarter of 2010 CML Metals signed a two year agreement with China Kingdom International to ship 600 thousand tons a year of the stockpiled iron ore to China's largest steel company, Hebei Iron and Steel. The stockpiled iron ore is referred to as run-of-mine ore that is a lower quality iron ore with an average grade of 40%. Because of the low quality of the ore, and the previous difficulty with logistics the iron ore was scheduled to be sold at a reduced rate for the first 6 months, and then the price could be renegotiated every 6 months thereafter till the contract expired.  Akin to the previous plan in 2006, the iron ore was scheduled to be shipped out  from Cedar City via the Union Pacific to California's Port Richmond.  After a few shipments in the fall of 2010 CML looked to expand their search for additional ports that could handle over 100,00 tons of ore a month.  Since the port of Richmond can only handle boats with a maximum capacity of 55,000 tons, CML sought out the Port of Stockton.  In contrast to Richmond, Stockton can load ships up to 80,000 tons.  As of the winter of 2011, Stockton seems to be CML Metals primary shipping choice, and the Port of Richmond will serve as a backup.
        According to Palladon's Q3 report CML shipped their first 50,000 tons of iron ore from the Port of Richmond In September. To date, approximately 250,000 tons have been shipped out from port Richmond, making CML and Palladon by proxy profitable for the first time.  Additional shipments will most likely be sent out from the Port of Stockton, as CML has indicated that it would like to ship 100,000 or more tons of iron ore a month.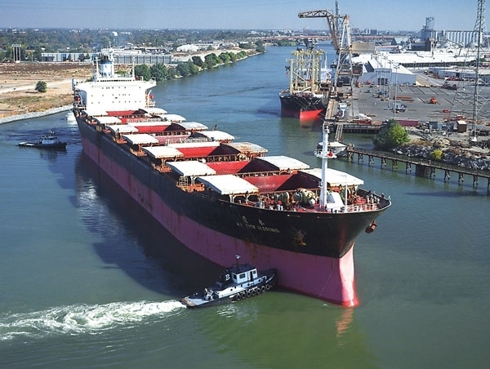 (Source: onearth.org, cargo vessel at Port of Stockton)
       Regarding train carriage, according to Mike Root on trainorders.com, 4 sets of trains a week will be leaving Cedar City as of February, 2011.  Each set will have 75 rail cars that can hold 130 tons each.  If there are no hiccups in production or shipping then CML will have the ability to sell 10,500 tons per train set, 42,000 tons a week, and 2,184,000 tons a year. You can find Mr. Root's discussion here: 
www.trainorders.com/discussion/read.php
.  Since ships at the Port of Stockton can be loaded to a maximum capacity of 80,000 tons, CML will need to load a ship every two weeks with iron ore to meet their 2 million ton per annum goal.  Fortunately, the port of Stockton has a daily vessel log that tracks the ship and cargo coming in and out of the port.  Again, since CML runs the only iron mine in the Western United States, any ship carrying iron ore can be attributed to CML.  You can find the daily vessel log here:  
www.portofstockton.com/Daily%20Vessel%20Log_Files/Daily%20Vessel%20Log.htm
Unfortunately, the Port of Richmond does not have a daily vessel log.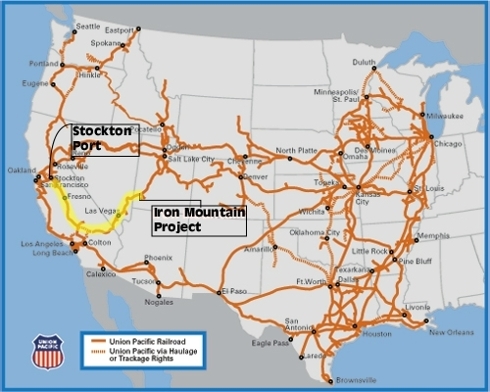 (Source: Union Pacific, edited by James Duade)
On January, 31st 2011 CML Metals announced the closing of the first of a two tranche loan from Credit Suisse to help finance the construction of the iron ore concentrator.  The first tranche is a $20 million dollar loan, and the second tranche will be $25 million.  For it's part Palladon raised $5.9 million dollars by issuing 84.9 million shares at a price of .0696 and, CML Metals raised $20 million from its stake holders. The second tranche of $25 million will be released to CML upon a successful engineering report done by an independent consultant.  CML and Palladon hope to close the second tranche in Q2 of 2011, and have the concentrator up and running by Q1 2012.  According to regulatory filings construction of the concentrator has already begun.  Lastly, on February 7th of this past year Palladon followed through with a scheduled 10 for 1 reverse share split.  This resulted in the number of outstanding shares being reduced to 27,395,556.  
Iron Mountain Reserves
According to a compilation of historic reserve studies, CML has approximately 172 Million tons of iron ore (see chart below for more details).  The iron ore that is currently being shipped out to China is run-of-mill (NYSEARCA:
ROM
) ore that was stock piled from previous mining operations.  There are approximately 12.9 million tons of the stockpiled ROM, which has an average grade of 40% iron.  Because of the low iron concentration, CML has turned it's attention to the Comstock and Mountain Lion pits, which have taconite deposits with 51% iron content, and can easily be processed with a concentrator to form 67.5% iron ore pellets.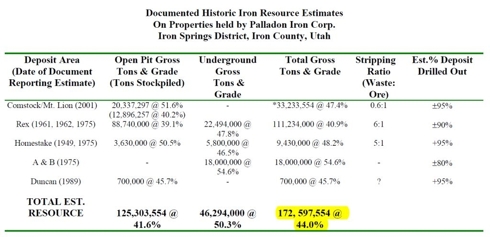 (Source: Palladon Ventures, edited by James Duade)
The Comstock and Mountain Lion deposits (CML in the chart below) have approximately 20 million tons of ore that will be processed and shipped out to China at a rate of 2 million tons per year.  Furthermore, CML metals and Palladon have the rights to the Rex and A/B area deposits as well, which have reserves of approximately 111 million tons and 18 million tons respectively.  The Rex and A/B deposits are all within a few miles of each other, which would allow CML Metals and Palladon to process the raw ore all at the same facility located near the Comstock Mountain Lion deposit.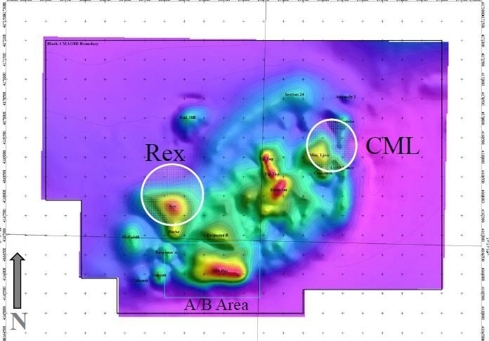 (Source: September 2009 SRK Presentation for Palladon)
According to the 2009 SRK consultant presentation.  The group estimated that the total cost per ton of iron ore would be approximately, $55.32.  Please see the image below for the cost breakdown per ton mined. 

(Source: 2009 SRK Consulting Report for Paladon)
Valuation Assumptions

The valuation analysis below assumes that the concentrator will be built, and that CML Metals will be able to ship out 2 million tons from Cedar City.  I also assumed that the cost per ton would be $60 using a slight inflation from SRK's 2009 report, and that it would cost CML approximately $30 per ton to ship the ore concentrate from Cedar City to Port Stockton.  Lastly, I used several price per ton projections from $100 to $225 spaced at $25 increments to allow the reader to judge how profitable Palladon may be if the concentrator is built and ready for production in 2012.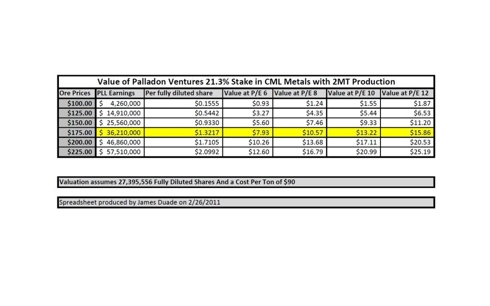 The yellow highlighted line indicates approximately where the current spot price of 63.5% iron ore is according to Platts ($191 at the close of market on 2/25/11).  Given that Palladon plans on selling 67.5% iron ore pellets, a $175 per ton estimate represents a modest discount to the current spot price.  

NPV of Comstock Mountain Lion Deposit 
A Net Present Value analysis was conducted in order to examine the potential value of the Comstock Mountain Lion deposit (CML deposit).  The CML deposit according to the recent SRK reports has 32.23 million tons of iron ore, which will eventually be mined and processed at a rate of 2 million tons per year as a 67.5% iron concentrate.  A valuation matrix below looks at the NPV of the CML deposit using different prices of iron ore at $25 increments ranging from $125 - $225 per ton.  
       The valuation makes several assumptions, first of which is that Palladon will be able to ship 2 MTPY of iron ore, and sell that ore at the world price.  The second assumption is that Palladon will retain it's 18.62% interest in CML Metals, and that Palladon will not further dilute it's shareholders.  It was also assumed that Palladon's net profit interest in CML would be reduced by 10% for administrative costs.  Additionally, it was assumed that the life of the CML  deposit would be 16.1 years.  Lastly the potential cash flow was discounted at three different rates: 8%, 10%, and 12%.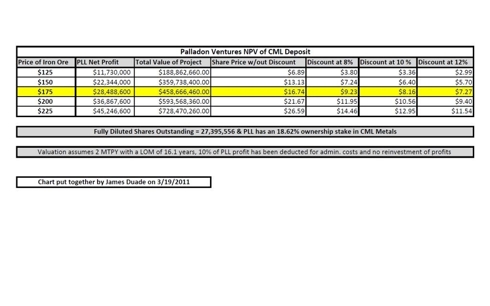 It should be noted that these NPV figures assume that no cash flow is being reinvested, and that its just being passed on to the shareholder.  As has been stated, CML Metals and Palladon have several other deposits with over 100 million tons of iron ore that could be concentrated.  Clearly the company has several other opportunities to pursue with its profits, which would also increase the earning potential of CML Metals and Palladon. 

Potential M&A Target, or Future Royalty Company?

As you can see in the valuation above, it's very possible for 2012 earnings to exceed the current share price of around $1.15.  It is the author's opinion that one of two paths will be taken by Palladon.  Either Palladon will be acquired by an Asian steel company, or Palladon will turn into a royalty company.  Due to Palladon's lean corporate structure (just 2 employees!), it's the authors opinion that the likelihood of one of these two scenarios occurring is very high.  
       In a previous article on iron ore I discussed how steel companies, particularly Chinese steel companies are being squeezed by iron ore miners.  This is occurring for a multitude of reasons, but mostly because the Chinese steel market is fractured, and the iron mining industry is consolidated to 3 major players who own over 75% market share.  Since Palladon already has a relationship with a Chinese steel firm, it may not be a stretch to imagine that Hebei, or another firm would like to purchase the mines.  CML Metals would be attractive to a Chinese steel firm because they could essentially purchase the iron ore at cost, saving them the difference between the cost and the spot price of the iron ore.  Which as of 2/25/11 was over a $90 margin!  
      It is also possible that CML may be taken over by another mining firm, like a BHP, Rio, or Vale.  I think this possibility is less likely, as the mining firm may ask Gilbert Development to hand over the mining operations.  Since this would impact Gilbert Development negatively, and the CEO of CML is Dale Gilbert, I think this scenario will not occur.
      If CML Metals and Luxor do not find a buyer, then the other alternative is that Palladon will remain a 21.3% owner in CML Metals.  As the 21.3% owner, they will receive a windfall of cash every quarter (see the above valuation) with no real growth opportunities, or ability to pursue growth for that matter.  In this scenario the most likely outcome would be for Palladon to become a defacto royalty company handing out probably 80-90% of their earnings.  If this were to occur, then Palladon would prove to be a very attractive revenue stream.  
 
Risks

While the above valuations look compelling, they do make assumptions that may not come true.  For instance, worldwide iron ore demand could potentially decrease from current levels, which would undermine Palladon's future profitability.  Additionally, it is possible that Credit Suisse may not extend the second tranche of capital to CML Metals and Palladon.  If this were to occur, it would greatly impact the ability for CML and Palladon to make a profit, as they would only have the 12 million tons of low grade iron ore left to ship, and be forced to find another creditor or further dilute shareholders.  Furthermore, issues with supply chain could occur.  For instance, problems could occur at a Port, the Rail Line could be damaged due to a force majeure, or the concentrator could have mechanical issues which would temporarily curtail production rates.  
       It should also be noted that Palladon is a micro cap stock that trades on the Canadian Venture Exchange, and also as an ADR on the Pink Sheets.  In both cases each issue is somewhat illiquid, and investors should be aware that margins between ask and bid spreads can at times be wide.  It is not uncommon for spreads to be .02-.05 so please proceed with caution.  Lastly, management may potentially have difficulty securing customers for their iron ore resulting in material impacts to profitability.  It is the authors opinion that these risks are minimal, but should still be considered before taking a position in Palladon Ventures.  

Conclusion
 
Palladon Ventures represents a unique opportunity for investors to increase their exposure to the iron ore industry.  If Palladon and CML Metals can finish the completion of their 2 Million Ton per annum iron ore concentrator while iron ore prices remain in their current trading range than Palladon will prove to be a wonderful investment.  Since CML Metals has seemingly fixed the supply chain issues and has secured a buyer for the ore, the company now has a margin of safety that it did not have before.  It is the author's opinion that CML Metals will likely sell their mining properties to an Asian firm before the company can realize its true value.  If this were to occur, its very likely that Palladon will receive several dollars a share as a buyout.  If a buyout doesn't occur, then Palladon will most likely prove to be a tremendous revenue stream for its investors.  Either way, owners of Palladon are likely to see a good return on their investment from the company's current market valuation.  As always, investors should gauge their own risk tolerance, and do their own due diligence before taking a position in Palladon.  If you have any questions or comments please feel free to post them below.             
Further Reading:
Chinese Miners Urged to Boost Overseas Investment
www.brecorder.com/business-a-finance/industries-a-sectors/4383-chinese-miners-urged-to-boost-overseas-investment.html
Palladon's 2010 Q3 Financials and Managment Discussion
www.palladonventures.com/i/pdf/2010-Q3-MDA.pdf

SRK's 2009 Presentation to Palladon
www.palladonventures.com/i/pdf/PowerPoint_w_Numbers.pdf

SRK's 2009 Report for Palladon
www.palladonventures.com/i/pdf/PEA.pdf
Disclosure:
I have no positions in any stocks mentioned, and no plans to initiate any positions within the next 72 hours.
Additional disclosure:
I am long Palladon Ventures through its ADR PllVF.PK