At the conclusion of its March 2nd meeting, Bank of Canada's policy makers left its key interest rate unchanged at 0.25 percent and pledged to hold its current policy rate constant until the end of the second quarter. It was widely expected that rates would remain unchanged; the key difference has been the shift in language.  Prior to January, the Bank's official statements have been carbon copies of the previous. However, yesterday's statement was different, and much has changed between then and now. 
According to the Bank's Monetary Policy Report (NYSE:MPR), the economy grew at an annual rate of 5 percent in the fourth quarter of 2009, which was led by vigorous domestic spending and further recovery in exports.  Real GDP contracted for three consecutive quarters in 2009, however, the magnitude of the downturn was more modest than other major advanced economies.  In particular, domestic demand has held up much better in Canada than in the U.S and Europe.  This reflects the health of household spending and corporate balance sheets, as well as the speed and scale of monetary policy options.  


In January, Canada's unemployment rate fell from 8.5 to 8.3 percent.  Led by part-time positions for youth, Canada gained almost three times as many jobs as expected, pushing the unemployment rate down to its lowest since September.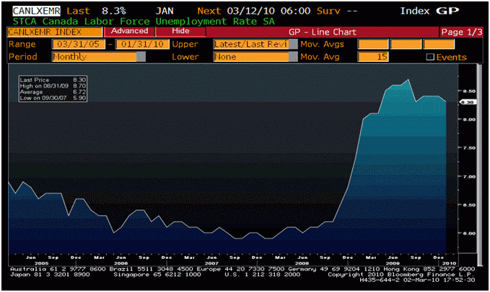 Unlike the U.S., Canada has not experienced the systemic failure of its financial institution. There have been no crippling mortgage meltdowns or banking crises north of the border, where there is greater oversight of mortgages.  This can be seen in Housing statistics, a measure of the number of residential units on which construction is begun each month.  Activity has picked up significantly since March of 2009, and has continued to expand.

While acknowledging a firm recovery in economic activity, the  Central Bank indicated that inflation risks were no longer tilted downward and core inflation has been slightly firmer than projected.  This could potentially open the door for rate hikes in the near future.  According to Bloomberg survey estimates, the Bank of Canada is likely to hike 75 basis points (.75%) in the third quarter of 2010.  With the flow of positive data, Bank of Canada could certainly be the first to increase rates ahead of most other major central banks including the Federal Reserve. The US dollar is testing the C$1.0320 area as a break could open a move toward this year's low of C$1.0200/10.
Disclosure:
no position