Don't Go Against the Trend - Time to Long Tesla Motors (TSLA)
Bright Industry Trend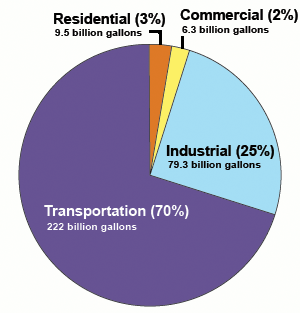 alternativeenergy.procon.org
70 percent of oil, shown on the chart above, is used for transportation in the U.S. Moreover, passenger vehicles account another 70 percent of transportation oil. Additionally, a rising middle class in China and India is further hyping up the demand for passenger cars, and with it, demand for oil. By 2050, there may be as many as 1.5 billion cars on the road, compared to 750 million in 2010. This increasing demand translates into both opportunities and challenges to capitalize on innovative vehicle technologies, and in the process, reap substantial economic development benefits. The following reasons summarize why this new type of technology should be implemented more in the near future:
Better Employment; according to multiple studies, job growth in electric vehicle industries will outweigh any reduction of jobs in traditional fuel industries, eventually generating net employment growth.
Economy Growth; electric vehicles boost economic growth by improving standard of living, reducing spending on energy, and decreasing reliance on imported oil from foreign countries.
Putting all of those economic benefits aside, as early Generation Z2people- who are generally more environmental friendly because of modern education - are finishing up their college education, they will soon become the primary consumption force for environmental-friendly goods such as energy-saving, biodegradable products, hybrid & electric cars and etc.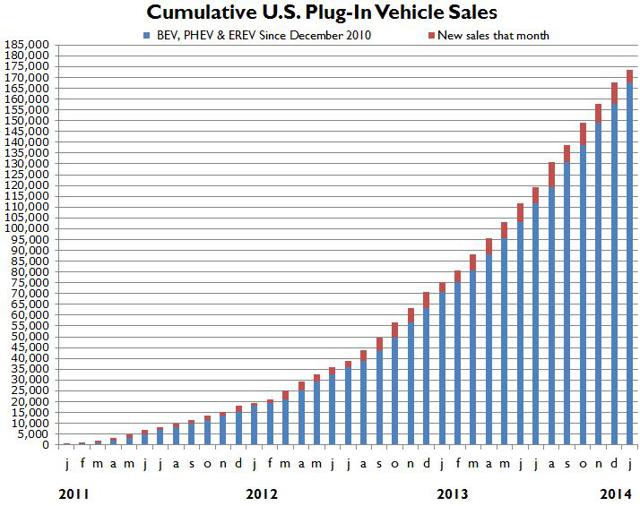 Electric Drive Sales Dashboard -EDTA
In fact, in the past 3 years, since the introduction of electric vehicle, the annual sale of electric cars (including hybrids) has been growing at an extremely fast paste at an expected CAGR around 47%.
Especially for Battery-Fueled Cars (BEVs), the demand is expected to grow at an even higher rate. As you can see from the graph below, although BEVs was introduced to the market one year later than hybrids (HEVs) it is already contributing massive growth to electric mobiles sector.
Incentive to Buy EVs
Under such a robust trend, I believe as this new technology being accepted to more and more people, we will see companies in the sector gaining a huge momentum in upcoming years.
One question was commonly asked by consumers and that is why exactly I should purchase an electric vehicle (EVs) instead of a tradition vehicle (TVs) under the current market condition - most electric vehicles are overpriced and are incapable to travel for a longer distance.
The reasons are plain and simple:
• Saving Money: EVs can cost less to drive (a LOT less - saving money on gas)
• Tax Benefit: Potential federal and state subsidies equal less taxes to pay
• Eco-Friendly: Less pollution, even when factoring coal as the electricity source
• Being Trendy: They are very high tech and trendy
Of course there will be a whole list of benefits you are getting from driving such an EV and overall they should outweigh the drawbacks that current designs are having on the market.
| | | | | |
| --- | --- | --- | --- | --- |
| Model | MSRP | RANGE | FUEL COST | CHARGE SPEED |
| 2013 Tesla Model S | 69,900 | 208 mi. | 650 | 40 min. w/ station |
| BMW i3 | 41,350 | 80-100mi. | 600 | 30 min. |
| 2013 Chevrolet Hybrid | 39,145 | 38 mi. EV 380 Total | 950 | 4 hours |
| 2013 Nissan Leaf | 28,800 | 75 mi. | 500 | 4 hours |
| Ford Focus Electric | 39,200 | 76 mi. | 600 | 4 hours |
| Honda Fit EV | 36,625 | 82 mi. | 500 | 3 hours |
After all the analysis above, I think now it's the time to take a look at the EV industry itself. Among most popular and highest rated EV models, Tesla Model S stands out in the competition thanks to its higher range and faster charging speed. On top of these utility indicators, Tesla's models also have decent performances in terms of horsepower (416hp)3, acceleration and safety. In addition, a $7,500 up to $15,000 tax credit 4is a huge selling point because it reduces the actual price that a consumer pays for this model on a net basis.
If we do a quick calculation on how much you are actually paying for this car: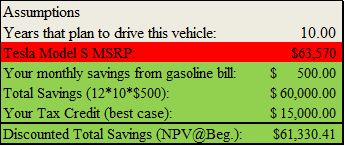 In this situation, assuming that you are paying a basic Model S in cash for a MSRP $63,570, treating all the future savings as cash flow (discounting them at an APR 5%) and also assume the car has no salvage value after driving it for 10 years, we are getting a NPV of all the savings at around 61k compared with 63.5k MSRP. On the side note, on average you are only end up paying about $4.00 -$5.00 per charge on a 40kw model and that gives 200+ miles.
Just a brief summary of the company itself in case you don't know much about it:
"Tesla Motors, Inc. (Tesla) designs, develops, manufactures and sells electric vehicles and advanced electric vehicle powertrain components. Tesla owns its sales and service network. The Company is engaged in commercially producing a federally-compliant electric vehicle, the Tesla Roadster. Addition to developing its Model S and future vehicle manufacturing capabilities at the Tesla Factory, the Company is designing, developing and manufacturing lithium-ion battery packs, electric motors, gearboxes and components both for its vehicles and for its original equipment manufacturer customers. These activities occur at its electric powertrain manufacturing facility in Palo Alto, California and at the Tesla Factory. The Company provides services for the development of electric powertrain components and sells electric powertrain components to other automotive manufacturers."
Great Growth Potential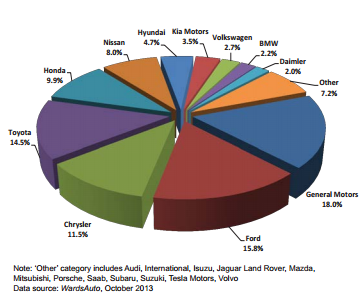 Tesla Motors, Inc., as a relatively new technology-savvy company, just like the other ones, is currently in its early phase of the company's life cycle. Although the company is striving to expand its business globally, the current sales are primarily concentrated in Europe and West Coast of the U.S - California has always been the strongest market for Tesla Motors. The company is based in Palo Alto, and the all-electric vehicle has proven to be wildly popular in both Los Angeles and Silicon Valley.
| | | |
| --- | --- | --- |
| Breakdown | California | % |
| Q1 | 2406 | 28.9% |
| Q2 | 2308 | 27.7% |
| Q3 | 1823 | 21.9% |
| Q4 | 1793 | 21.5% |
Tesla Motors, Inc., company's 10K filling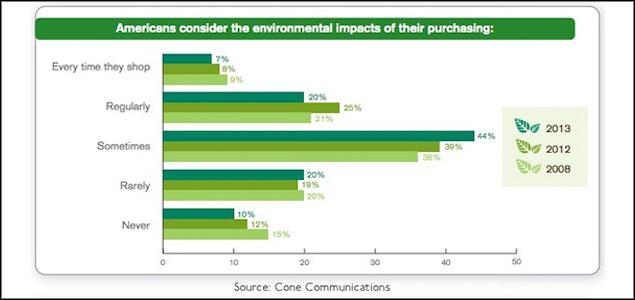 On average near 26% of its total sales are concentrated in California. If Tesla could potentially expend its market to other states or even other countries, we can see a more geographically diversified revenue generation and of course higher revenue. Moreover, currently the electric vehicles (EVs) only represent a tiny fraction of the total light automobile industry - only 3.81%5 of the total market share. As EV improves itself and also gains more popularity, more and more people will switch from traditional vehicles and I believe Tesla's overall market share will be improved significantly due to this trend.
What Do We Expect?
After all being said what exactly do we expect from TSLA's future earnings? Given this EVs replacing traditional vehicles trend, we should expect Tesla to remain a strong revenue growth due to the expansion of the industry and also an increasing global reach of the company.
Tesla's total revenues is projected to increase 340% in 2013 due to higher than expected sales volume in first couple quarters, however, the growth is expected to slow down to 65% in 2014. The sales volume is also expected to soar in 2015, with a higher demand for its new SUV Model X.
According to the historical data, although company's margins might fluctuate among quarters, an overall improvement should be seen because of cost reductions and a higher efficiency from larger Model S production.
Given Tesla's cutting edge technology in manufacturing EVs and its industry-leading model which has the longest range, quickest charging speed and strong safety reviews, it is extremely attractive right now. Following the recent correction of the stock price after last earning, the risk/award ratio is in a relatively favorable range.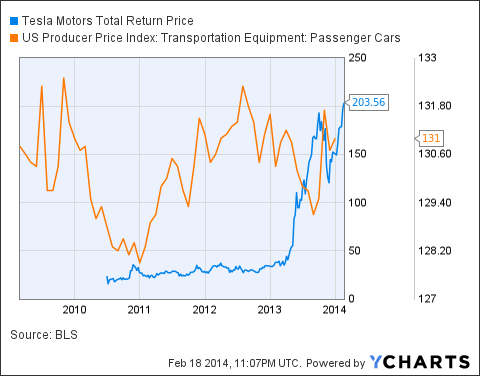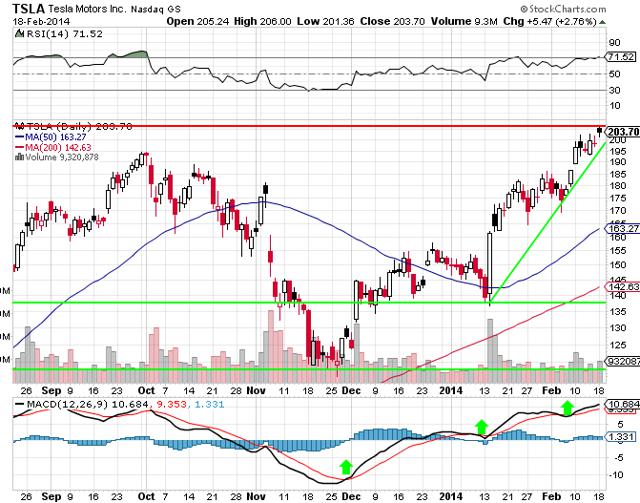 Technical Analysis indicates TSLA is currently being overbought with a RSI 71.52; MACD is positively trending up;
Support Levels: S1 @ $121.00 S2 @$138.00 S3 @170.00
Resistance Levels: R1@ $206.00 R2 @203.70 R3@201.36
| | | |
| --- | --- | --- |
| | Ticker | TSLA |
|   | 52-week range | 33.80 - 206.00 |
|   | Closing Price( As of Feb 18th,2014) | $203.70 |
|   | 1 Year Target Price | $240.00 |
|   | Recommendation | BUY |
------------------------------------------------------------------------------
2 Generation Z is the generation of people living in Western or First
World cultures that follows Generation Y. Experts differ on when the
earliest members of Generation Z were born, ranging from 1990 to 2001, though a majority opinion
claims about 1996. Several other names have been used to refer to this population group, including
"Generation V" (for virtual), "Generation C" (for community or content), "Generation Cox", "The New Silent
Generation", the "Internet Generation", the "Homeland Generation", or even the "Google Generation".
3 Steepest performance comes via the steepest-priced P85+ with high-performance drive inverter and current turned up for 416 horsepower (310 kw) from 5,000-8,600 rpm, and 443 pounds-feet of torque (600 Nm) from 0-5,100 rpm.
4 Tesla Motors, www.teslamotors.com/incentives/US
5 "Promoting electric drive technologies andinfrastructure." Electric Drive Sales. electricdrive.org/index.php?ht=d/sp/i/20... (accessed February 18, 2014).