As a trend trader, primarily, one of my styles of trading is scanning charts across various equities across the globe to find appealing trade ideas both long and short. Recently, with the attention of 3D printing coming into play, I found a company, VPRT (Vistaprint), which has been in a decent trading range for about the last six months ranging between $43 & $29 a share. Vistaprint is a provider of online printing and business services that range from business cards to magnets, pocket folders and much more. I've seen them before, in fact, I've used them once to order a business card holder. The first thing that caught my attention was the current trend we've been in on the stock.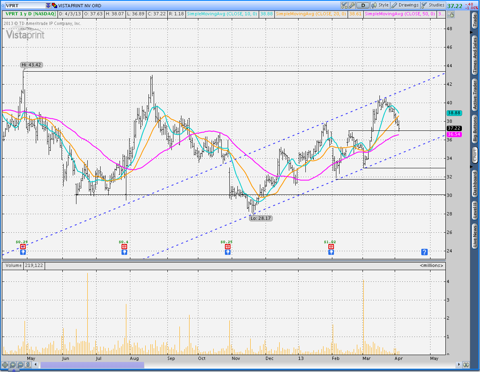 The second thing that caught my attention was the short interest, which is currently at 42% as of March 15, 2013. Now aside from researching a bit into the company and how they operate one thing that I found particularly interesting was the emergence of online printing companies, primarily, broker type firms who act as a wholesaler with retailers (public & business) nationally and globally. There are two firms, Zoo Printing Inc. & 4 over 4 Inc., whom I found through some research, they provide any person access to wholesale pricing of their printing products and even, for a slight fee, a fully functional website with ordering capabilities as to mask the re-seller as the actual source. Now, the case here is not these firms, but rather the fact the push that these firms have been on in promoting individual print brokers. While print brokering is nothing new, the fact that these wholesalers are taking steps to essentially provide a person with all the tools necessary to begin re-selling a variety of print based products has me cautious to see if it has an impact on VistaPrint sales in the future. Again, my thesis for the short lies in the current trend we have been in and a correction is imminent, however these other items that I've found make me that much more confident to keep an eye on this name heading into the rest of 2013.
Disclosure: I have no positions in any stocks mentioned, and no plans to initiate any positions within the next 72 hours.