Forge Group (FGE.AX)
Thursday January 10, 2013
Some charts may be missing from this article. Click here to download an origional copy.
Historic Performance

Source: Reuters
Company Overview
Forge Group Ltd is an Australian engineering and construction company operating in the following segments:
Minerals and Resources
The company offer a range of services including: metallurgical and engineering investigations, Front End Engineering Design (OTC:FEED), feasibility studies, EPC project delivery of mineral processing facilities, and associated infrastructure for the resources sector.
Power
Forge Group is a turnkey project provider to the energy and utilities sectors specializing in gas turbine power plants. Services include: feasibility/strategic planning, front end design, engineering, construction, commissioning, operation, maintenance, and lifecycle management.
Construction
Services cover all sectors - from resource plants and infrastructure (including heavy civil, structural, mechanical, piping, tanks, electrical, instrumentation) to commercial buildings and accommodation facilities.
Asset Management
Forge group offer comprehensive operations and maintenance management services and capital works on power stations, petrochemical plants, and minerals processing plants.
The Business
The company is split into several operational segments:
Cimeco (51% 2012 Revenues):
Provides construction services including: commercial building, civil, concrete, structural, mechanical, piping, tanks, and electrical.
CTEC Pty Ltd (30% 2012 Revenues):
Provides engineering and construction services to the energy and utilities sector. Capabilities including major turnkey Engineering, Procurement and Construction (NYSE:EPC) contracts; Build, Own, Operate and Transfer (NASDAQ:BOOT) projects, and Operations and Maintenance (O&M) services and equipment supplies.
Abesque Engineering Ltd (14% 2012 Revenues):
Specialises in the provision of engineering design and project management services to the resources sector including: base metals, gold, and iron ore. The business unit also supplies engineering design capabilities to: earthworks, civil works, structural, mechanical, piping, electrical and instrumentation sectors. Abesque provides expert services to prepare feasibility studies for mineral processing facilities and associated infrastructure.
Webb Construction West Africa Ltd (4% 2012 Revenues):
Specialises in structural, mechanical and pipe installation, tank fabrication and erection. This segment includes Webb's operations in Ghana, Sierra Leone and South Africa.
Forge Group Ltd (1% 2012 Revenues):
The holding company of Cimeco Pty Ltd, Webb Construction West Africa Ltd, Abesque Engineering Ltd, and CTEC Pty Ltd.
Strategy:
A large part of the strategy has been to focus on "diversified growth". This is important to note as the group are no longer a services and construction company that are just linked to the mining sector. The acquisition in FY 2012 of CTEC (focused towards power and utilities sector) has significantly helped with this. As can be seen from the map, a lot of Forge's large projects are not mining based (and those that are span various different materials).
The group supply services to a wide range of significant clients and have a very successful history of winning contracts - which can be seen from the impressive revenue and earnings growth.

Investment Rationale
Fantastic Growth Profile:
Since 2007 the company has seen terrific growth of revenues, cash flow, net income, and equity. The 5Yr CAGR of free operating cash flow is 77.35% and that of EPS is 63.28%.
Strong Fundamentals:
Forge Group has an excellent financial position. As of June 2012 the current ratio was 1.22. They also had net cash of $111.66m, after a large acquisition.
Very Encouraging Profitability and Return Ratios:
Forge have a 5Yr average gross margin and operating margin of 42.44% and 11% respectively. Capital employed has risen steadily over the last several years, and ROCE has risen to above 25% (2012 dip caused by acquisition).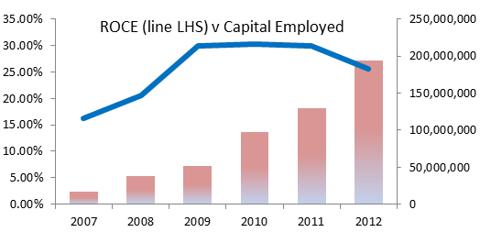 Extremely Undervalued:
On all metrics this company looks significantly undervalued (see "valuation" section).
Market Misconception:
The market perhaps has a negative outlook towards iron ore and suspects iron ore related projects to slow. However, Forge Group is not simply a mining contractor and has worked hard to diversify away from that.
Positive Management Expectations:
Management have recently released earnings guidance (5th December 2012) saying that they are confident that they will hit pre-tax earnings of between $90 - $100m in 2013. Assuming a tax rate of 29% this would net the group earnings of at least $63.3mn (putting them on a PE of 6.8x, or EV/NI of 5x).
Strong Order Book:
Forge finished the 2012 year with an order book of $900 million - a significant amount of this is linked to power plant and utility construction (thus limiting mining exposure). Assuming their average net margin of 7.72% the order book implies that Forge has, ceteris paribus, $69.48mn in earnings secured in the short to medium term.
Catalysts
Negative Outlook towards Macro Commodities. Could there be a reversal of opinion?
If global demand is stronger than some expect in 2013 the demand for mining-related construction projects may be better than forecast. Although there shouldn't be a correlation between Forge's share price and the price of iron-ore, there is definitely some apparent correlation, and since the pickup in iron ore prices, the groups stock has risen dramatically. Predicting the iron ore price is impossible, but some participants expect a better global economic performance, especially from China who really dominate steel demand. If this happens, it could provide some support for the metal. If there is then a continued correlation between the pair, this could prove bullish for the share price. However, a falling iron ore could do the opposite.
Continued Contract Winning:
Since the last annual report, the group have announced another $105m contract win (12th Dec 2012) to build a power station completing H1 2014; a $280m gas power station for delivery in H1 2015 (announced 3rd September 2012); a $70m fuel infrastructure project for Rio Tinto (announced 17th September 2012); a $12.2m water services projects finishing August 2013 (announced 1st November 2012);. These contracts represent implied additional revenues of $467.2m over the next 2 years.
Forthcoming Interim Statement (11th February):
A positive set of results could reassure the market that growth targets are going to be met in 2013. We also may get some more information about the current order book size.
Risks:
Loss of Order Book:
If expected clients start pulling out and the order book becomes thinner, the group could lose out significantly.
Further Economic Slowdown:
Continued macro 'problems du jour' could impact demand for the end goods that ultimately dictate demand for Forge's services. If China keeps slowing, and Europe keep providing uncertainty for all stakeholders, companies may delay CAPEX spending until more certainty is attainable. This could continue for years, or could dissipate in weeks. It is impossible to realistically tell. However, so far Forge has shown ability to grow the order book throughout the cycle - exhibiting rapid YoY revenue and earnings growth from 2006 without exception.
Loss of Key Personnel:
For a service company like Forge that rely on the expertise and experience of their employees, a loss of certain key personnel could result in problems for the group and business could follow the departing member.
Loss of Reputation:
A disaster or several poor performing contracts could deter businesses from using Forge.
Loss of a Large Customer:
The largest customer in 2012 accounted for 22.8% of revenues. Clearly, a loss or slowdown in activity of such a client would result in a significant loss for the group.
Management
Historic Management Decision Making:
From looking at the company history and the choices that are at the discretion of management (chart below), the directors appear to have acted rationally. They have been reassuringly conservative regarding financing and consistently maintained a low level of debt. The spike in borrowing in 2012 corresponds to the spike in goodwill due to the acquisition of CTEC which, as mentioned, diversifies the operations of the group away from the mining sector. They paid around $32mn for CTEC which has an order book of $600mn and counting.
They have been steadily increasing the dividend since 2007, with the exception of 2008 and 2009. This was a wise decision and instead they focused on paying down debt.
They have not been "gung-ho" about acquisitions, and instead have paid competitive prices for strategic "bolt-on" companies.
Financial Soundness
Balance Sheet Strength:
As can be seen from the annual changes in the composition of the balance sheet, the group have remained conservative and held a low level of debt (dark red) in relation to cash (green).There has been a large jump in total receivables (light blue), but this is likely due to the acquisition and the accounting methods used by the construction company and should not pose a significant concern.
Cash Flow Analysis ($m):

Valuation
Peer Analysis (average of 100 largest global peers by MCap - as of Thomson Reuters Industry Classification):
| | | |
| --- | --- | --- |
| Metric: | Mean: | FORGE: |
| PB | 1.85x | 2.66x |
| P/FOCF | 154.08x | 10.79x |
| ROA | 4.82% | 14.26% |
| EPS 5Yr CAGR | 8.17% | 63.28% |
| Debt/Equity | 88.12% | 16.03% |
| EV/EBIT | 16.54x | 3.79x |
| PE | 21.21x | 8.55x |
As can be seen, on a PB basis, the company looks overvalued. However, as it is a services company this is not the metric to value the company on. On an EV/EBIT basis, Forge Group looks astoundingly cheap. They also have a far more sustainable and cautious debt/equity ratio. On a PE basis they are also considerably undervalued, especially when considering the growth of the company and the confidence management has in 2013 earnings.
Mean Brokers Forecasts:
| | | | | |
| --- | --- | --- | --- | --- |
|   | Jun-12 FY (NYSE:A) | Jun-13 FY (NYSE:F) | Jun-14 FY | Jun-15 FY |
| EPS | 0.573 | 0.755 | 0.768 | 0.753 |
| Cash Flow per Share | 1.061 | 0.975 | 0.97 | 0.86 |
| Book Value per Share | 1.895 | 2.471 | 3.073 | 3.645 |
| ROE | 34.26 | 33.33 | 26.88 | 21.55 |
| ROA | 14.26 | 15.73 | 15.33 | 13.81 |
| PE | 8.80 | 6.68 | 6.56 | 6.69 |
| PB | 2.66 | 2.04 | 1.64 | 1.38 |
Intrinsic Value Estimate:
Due to the stability of earnings growth, the healthy and growing order book, the conservative debt profile, consistent reliability of management, an attractive industry structure, projected (and realistic) growth forecasts, and a strong fundamental business model, I believe this company is currently worth well over the current enterprise value of $332m.
Assuming a conservative sustained EPS growth rate of 20%, (far below the current 5Yr CAGR of 63.28%), I believe it would be fair to value these shares on a DCF basis at $11.18. Considering the lower of management's expectations for 20134 EPS imply a 28% growth rate, I think this is reasonable. However, I appreciate the potential forecasting error inherent in the DCF model and so use it as a guide in this case and for other companies with very stable earnings patterns.
Looking to another valuation tool, the Peer Group Analysis also suggests that Forge is substantially undervalued. A conservative view would be that Forge should be trading at a much higher PE multiple that fairly prices in the growth rate. I would say that a PE of 2013 earnings of 12 would be a more realistic valuation for the company. This would give a share price of around $9.00.
Looking at the various valuation methods, I would say that a fair share price for the group would be around $10. This implies a 49% margin of safety from the current share price.
Top Five Shareholders and Volumes
| | |
| --- | --- |
| Shareholder: | Amount Held: |
| Clough Operations PTY LTD | 35.85% |
| J P MORGAN NOMINEES AUSTRALIA LIMITED | 4.78% |
| EGO PTY LTD | 3.60% |
| NATIONAL NOMINEES LIMITED | 3.23% |
| HSBC CUSTODY NOMINEES (AUSTRALIA) LIMITED | 2.12% |
Source: Reuters
Things to follow
Macro:
Global demand - especially China
Australian utility activity
Commodities prices (even though these DO NOT necessarily change any fundamentals for the group). Some investors may see this company as a proxy to play mining sector. However, the group is diversified and shouldn't be traded as such.
Any Australian national or industry specific regulatory changes.
Company:
Contract wins - in context of market cap
Interim results - 11/02/2013
Overall Recommendation
BUY: $5.04
Richard Broom. 08/01/2013
DISCLAIMER
I am a completely independent analyst and am not paid by any company of which the stock I cover or write articles about. However, I may have long or short position on a stock I cover or write about at any time.
My ratings and/or analyses of a stock only represent my personal view on the stock and/or my assessment on the probable movement of the stock price in the next 12 months. They are by no means a guarantee of performance on any long or short trades on a stock and should not be relied upon solely for buying or selling a stock. Every investment, no matter how compellingly appealing it seems, involves risk. Investors should do their own due diligence and consider personal risk tolerance, preferences and needs when making an investment or a trading decision. All materials are subject to change without notice. Information is obtained from sources believed to be reliable, but its accuracy and completeness are not guaranteed.
Disclosure: I have no positions in any stocks mentioned, and no plans to initiate any positions within the next 72 hours. I wrote this article myself, and it expresses my own opinions. I am not receiving compensation for it. I have no business relationship with any company whose stock is mentioned in this article.
Additional disclosure: I am long FGE.AX