The biotechnology sector is unmatched in producing extreme outliers. The next blockbuster drug will surely lead to billion in revenue annually, and investors are constantly searching for the drug that can earn fortunes for those who can forecast its potential at an early stage. Of course, every step a drug takes in development could take it one step closer to or one step further away from becoming this blockbuster drug, and the market responds accordingly.
This has led to the biotechnology sector being perhaps the most risky, yet rewarding sector in the market, with its companies' returns producing more outliers than any other sector. Year after year, even during the recession, Biotech stocks continuously generate extreme returns relative to the market. This phenomena provides excellent opportunities for the eager stock picker. Biotechnology is not like other industries; instead it produces outliers, or in Nassim Nicholas Taleb's terms, it is the Black Swan industry.
Since 2004, not only has biotechnology accounted for the most Black Swans in total, but it has also produced the greatest number relative to the number of firms in the industry.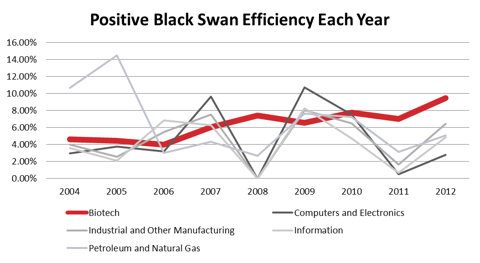 It is important to note that during the time period spanning 2004 to 2013, Biotechnology held a 2:1 ratio of positive Black Swans to negative Black Swans. Additionally, the average positive outlier return is greater than twice the average negative outlier return. This ratio is greater than any of the other top five industries including the technology sectors, which, in fact, experienced a year where the average negative outlier return was greater than the average positive outlier return. Biotechnology never experienced such a down year.
Although there is risk in Biotechnology, other industries display greater risk without the large gains consistently displayed by Biotech stocks. In fact, there were 125 outliers in the Biotech industry between 2004 and 2013. That is more than any other industry, including the other top positive outlier industries such as the highly touted computer industry (Figure 10). Even more impressive is the fact that nearly 1 out of every 10 Biotech stocks were Black Swans relative to the returns of their respective year's market (Figure 11). No other industry can make such a claim. Biotechnology is therefore the most efficient industry in producing Black Swans, thus providing the best opportunities for investors.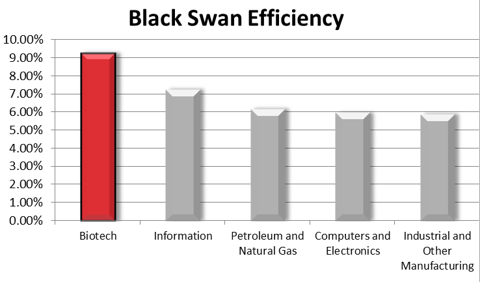 Some examples of positive Black Swans in biotechnology would be Arena Pharmaceuticals, Inc. (ARNA) (+382.35% in 2012) and Galena Biopharma, Inc. (GALE) (+226% in 2012), whose returns have greatly exceeded the norm. On the other hand, an example of a negative Black Swan that has greatly underachieved compared to the average biotech would be K-V Pharmaceutical Co. (KVPHQ) (-76% in 2012). There are many more examples of such Black Swans in the biotechnology sector that, if correctly forecasted, can allow an investor to both avoid huge losses and take advantage of enormous gains.
All data was gathered using the Center for Research in Security Prices (CRSP) via Wharton Research Data Services. For more information, including how outliers are defined, the full white paper on biotechnology's Black Swans can be found at Schenley Park Advisors' website.
I would like to thank Ron Yurko and John Kozorra for their contributions to this article.
Disclosure: I have no positions in any stocks mentioned, and no plans to initiate any positions within the next 72 hours. I wrote this article myself, and it expresses my own opinions. I am not receiving compensation for it. I have no business relationship with any company whose stock is mentioned in this article.