September 6, 2012 (By Frank Kollar)
Only yesterday we wrote that shares of Goldman Sachs Group (NYSE: GS) had been rising steadily since correction lows back in late July. Today Goldman Sachs rose along with other big name banks as the entire sector rallied. Goldman Sachs was up 3.5% near the close.
Goldman Sachs had reached correction lows back on June 4th, and then successfully tested those lows twice more for a very well defined triple-bottom just above $90 a share. Since the third test on July 23rd, Goldman Sachs has begun a steady move higher that has added over 16% in just over five weeks. Today's rally closes in on 20% in gains.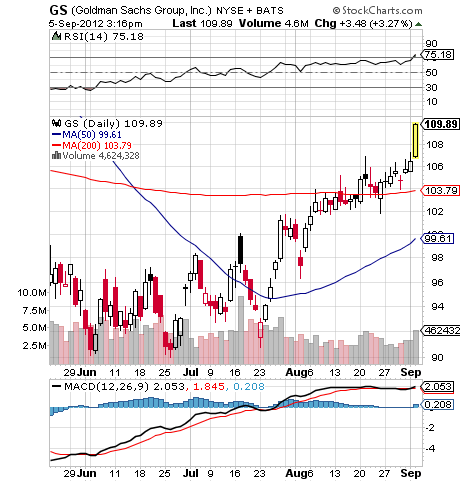 Chart Courtesy of StockCharts.com
Yesterday we wrote that traders should look for Goldman Sachs to reach $109.32 in coming days. This is the 50% retracement resistance level for the entire completed March to June correction.
Goldman Sachs is now aove this level. The stock is now on track to reach the next resistance level up at $113.77
If Goldman Sachs closes above this, we should see a run for the prior highs near $128.00 a share.
The Fibtimer.com (http://www.fibtimer.com) Stock Timing Strategy does have a position in Goldman Sachs Group.
Disclosure: I am long GS.