September 14, 2012 (By Frank Kollar)
Whole Foods Marketing (NYSE: WFM) suffered through a steep correction back on July 19 to July 23. But the stock has since rallied and appears ready to break out.
Whole Foods is back at its highs but has remained just below $98.50 a share for the last three weeks. It appears the stock is ready to break out above this resistance level in coming days.
If Whole Foods closes above $98.50 (it is trading at $97.77 as this article is being written, midday on Thursday, September 13th.) we are looking for a fast run to about $101.52.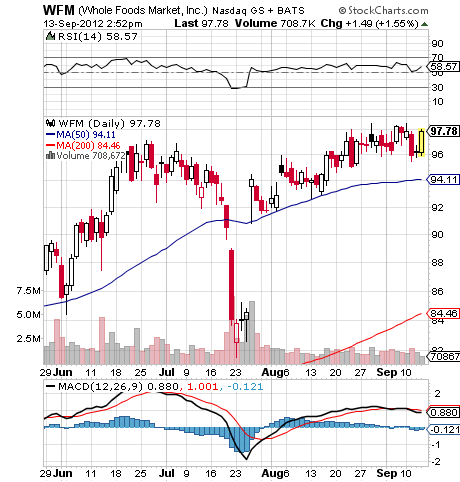 Chart Courtesy of StockCharts.com
A close above $101.52 should result in a run to resistance at $106.95 a share. Then we would be expecting profit-taking to stop the run for awhile.
A bullish trade here with a stop just below $95.00 would be a low-risk trade for what is a great long-term company to own.
The Fibtimer.com (http://www.fibtimer.com) Stock Timing Strategy does have a position in Whole Foods.
Disclosure: I am long WFM.