September 26, 2012 (By Frank Kollar)
Shares of Express Scripts (NASDAQ: ESRX) appear ready to move up to considerably higher highs in coming weeks.
ESRX suffered a huge decline back in May to October 2011, losing some 42% before finding a bottom.
With the exception of a short term dip in April 2012, the stock has been steadily rising. We are looking for that to continue in coming months.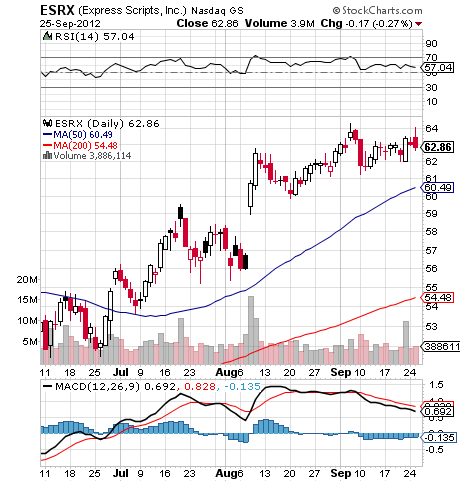 Chart Courtesy of StockCharts.com
ESRX should reach at least $68.07 in the short term. This is resistance and if it is surpassed, ESRX has a strong chance of reaching $77.21, 22% higher than today's close.
Watch the %68.07 resistance level for the break higher.
The Fibtimer.com (http://www.fibtimer.com) Stock Timing Strategy does not have a position in Express Scripts.
Disclosure: I have no positions in any stocks mentioned, and no plans to initiate any positions within the next 72 hours.