October 3, 2012 (By Frank Kollar)
Goldman Sachs Group (NYSE: GS) appears to have weathered eight days of selling by holding at support and now rallying in a declining stock market.
We have drawn a steep rising trend support line on the below chart and the correction lows reached five trading days ago reversed right off that line.
We should now see Goldman run for the prior highs at about $121 a share reached mid-September.
If that level is surpassed, look for continued new highs up to the $128 level where very strong resistance will be met.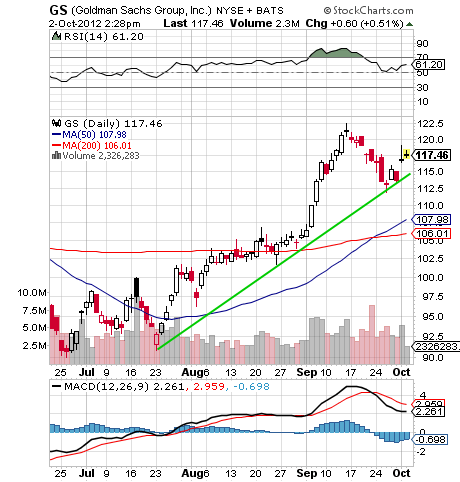 Chart Courtesy of StockCharts.com
Goldman should perform well as the stock market sorts out the new QE3 and factors that into the coming months.
The Fibtimer.com (http://www.fibtimer.com) Stock Timing Strategy holds a position in Goldman Sachs.
Disclosure: I am long GS.