October 5, 2012 (By Frank Kollar)
The widely traded and very volatile ETF, IShares Silver Trust (NYSE SLV) is at a critical resistance level that could make or break this rally.
Since September 13th, SLV has been stopped by the $34.00 level, trading sixteen days in a sideways pattern just under.
Back on February 23rd to March 1st, SLV traded at just above $34.00 a share after a strong rally, finally breaking down and reversing into a steep 27% decline.
Could this happen again? Anything is possible and it looks like the $34.00 level is the make or break for this rally.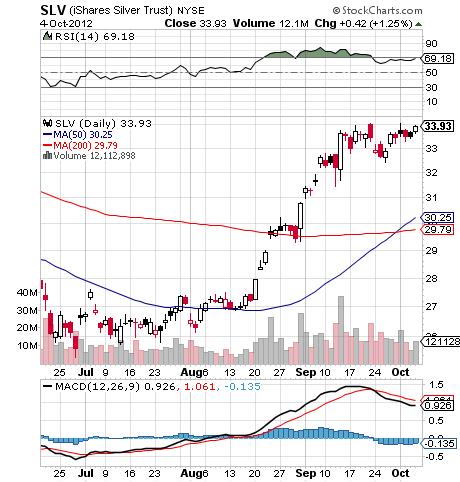 Chart Courtesy of StockCharts.com
If SLV can make a decisive close above, we should be off to the races for another leg up.
Note that back in February, SLV had a one day rally that gained close to 5%, only to reverse hard and collapse the next day.
This is a risky trade so a sell stop must be used to control the risk if it is taken.
SLV could reach $42 a share in short order if the impasse is broken here. If not, we could see another sell off and considerably lower lows.
The Fibtimer.com (http://www.fibtimer.com) Stock Timing Strategy does not hold a position in IShares Silver Trust.
Disclosure: I have no positions in any stocks mentioned, and no plans to initiate any positions within the next 72 hours.