October 10, 2012 (By Frank Kollar)
Shares of McDonald's Corp (NYSE MCD) posted a solid gain on Tuesday, October 9th, the same day the stock market sold off.
McDonald's, the world's largest restaurant chain, filed a trademark for its name for use on ground and whole bean coffee, according to September filings with the U.S. Patent and Trademark Office. The company filed to register both McDonald's and its double arch logo as trademarks for use with coffee. It also is seeking registration for "McCafe" for the same purpose.
That may be a good reason to rally, but still, the strength on a down market day was impressive.
Importantly, on the weekly chart of MCD, the stock has put in a nice double bottom in early June and then again in early August. Is this the start of a new move higher?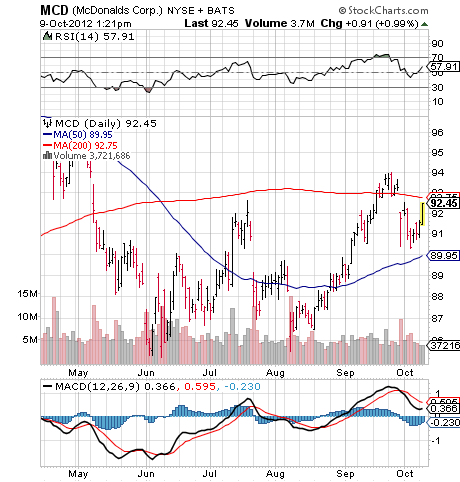 Chart Courtesy of StockCharts.com
MCD bounced off its 50-day moving average last week after reversing from its 200-day average four weeks ago. Shares are between these averages but the momentum appears to be building for a breakout above the 200-day average, currently at $93.64, higher.
A decisive close above $94.00 a share should be the start of a move to the $100 a share level. Of course if the stock is unable to breakout above this level, this would void this analysis.
The Fibtimer.com (http://www.fibtimer.com) Stock Timing Strategy does not hold a position in McDonald's Corp.
Disclosure: I have no positions in any stocks mentioned, and no plans to initiate any positions within the next 72 hours.