October 24, 2012 (By Frank Kollar)
Shares of the ETF SPDR S&P 500 Trust (NYSE: SPY) fell decisively below a critical support level on Tuesday, October 23rd.
Back on May 19th, 2008 SPY closed at a bear market rally high. That high has been surpassed three times in the past five weeks by SPY but today's decline was a decisive close below. At the writing of this report SPY was trading at $141.40, down $2.00 a share.
This breakdown in the SPY follows a similar breakdown in the Nasdaq 100 Powershares QQQ Trust that occurred last week.
We are always hesitant to enter short positions and this time is no exception. When the major indexes are near their highs, selling can reverse in a hear beat and stop out your trade.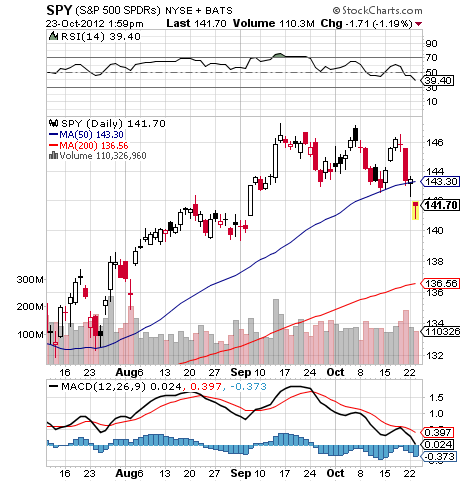 Chart Courtesy of StockCharts.com
We are looking at another support level, at $140 a share, as a potential trigger for a short trade. A sell stop near $144 would offer a low risk trade and potential for a quick decline to at least $135 a share is the goal.
The Fibtimer.com (http://www.fibtimer.com) Stock Timing Strategy does not have a position in SPDR S&P 500 Trust .
Disclosure: I am long SPY.