November 13, 2012 (By Frank Kollar)
Shares of Adobe Systems (NASDAQ: ADBE) are tracing out a potentially bullish pattern on their weekly chart.
Looking at the weekly chart (below) you can see that Adobe has three short term corrections since reaching its long term correction low in May 2012. Each of these lows has reached a higher low before reversing to the upside.
Since march 2012, Adobe has reached the $34.00 level three times and shortly after, reversed and corrected.
This points to $34.00 as a strong resistance level and the rising green support line in the below chart as a support level.
The pattern is called a bullish pennant formation. Typically, pennant patterns break in the direction of the previous trend, which in this case was a bullish one from April 2011 to March 2012.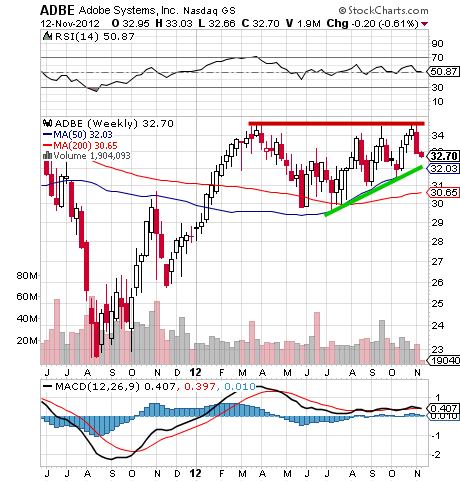 Chart Courtesy of StockCharts.com
Adobe has corrected for the past two weeks after again reaching that $34.00 resistance level. Adobe is closing in on that rising trend support line.
A strong reversal pattern at about $32.00 a share, or for more conservative traders a break and close above $34.50 a share, would be good places for a bullish entry.
The Fibtimer.com (http://www.fibtimer.com) Stock Timing Strategy does not currently have a position in Adobe Systems.
Disclosure: I have no positions in any stocks mentioned, and no plans to initiate any positions within the next 72 hours.