December 6, 2012 (By Frank Kollar)
Shares of Newmont Mining Corp (NYSE: NEM) are testing a support level that has not been broken in over three years.
Newmont Mining Corp. is a gold producer, which is engaged in the acquisition, exploration, and production of gold and copper properties in United States, Australia, Peru, Indonesia, Ghana, Canada, New Zealand and Mexico.
At the time this analysis was written on Wednesday, December 5th, Newmont Mining was down almost 2% at $44.22.
The support level, at $43.00 a share, has not been reached since late 2009. A break below this level would likely result in considerably lower lows in coming weeks as investors get stopped out at this long term support level.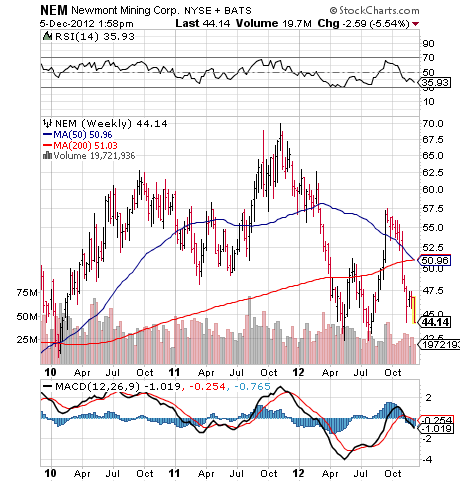 Chart Courtesy of StockCharts.com
On the flip-side, a solid reversal at this level could point to a tradable rally, though investors who participate should be aware of the stocks huge volatile swings.
Newmont Mining was at $70 a share at the end of 2011, and is currently down 37% from that high.
The Fibtimer.com (http://www.fibtimer.com) Stock Timing Strategy does not currently have a position in Newmont Mining.
Disclosure: I have no positions in any stocks mentioned, and no plans to initiate any positions within the next 72 hours.