December 20, 2012 (By Frank Kollar)
Important support for the widely traded ETF SPDR Gold Shares (NYSE: GLD) was broken in Tuesday's steep sell off.
On November 2, 2012 Gold Shares closed at a correction low of $162.60. On this most recent Tuesday, December 18th, Gold Shares closed at $162.08 after trading as low as $160.90 intra-day.
On Wednesday, December 19th, Gold Shares lost ground again, trading at $161.60 as this analysis was being written and hour before the close.
As it is, this ETF is one of the most volatile trading vehicle with huge intra day swings and sudden losses and gains that make mockery of trading stops.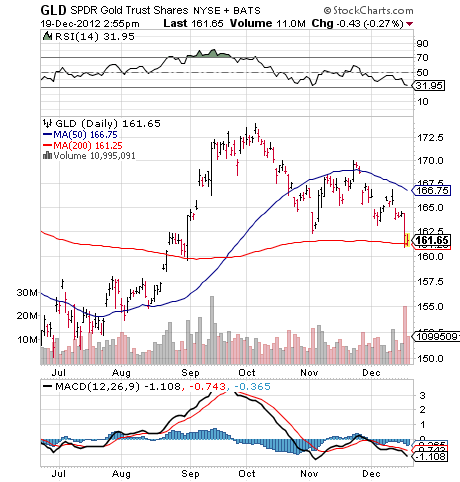 Chart Courtesy of StockCharts.com
We would now own the ETF nor any gold bullion or gold stocks during this sell off which actually appears to be gaining steam. We never recommend short positions in Gold Shares because of the volatility, but those with the resources might consider one here with a buy stop around $167.00.
The Fibtimer.com (http://www.fibtimer.com) ETF Timing Strategy does not have a position in Gold Shares.
Disclosure: I have no positions in any stocks mentioned, and no plans to initiate any positions within the next 72 hours.