January 8, 2013 (By Frank Kollar)
Several weeks ago we wrote that shares of Thermo Fisher Scientific (NYSE: TMO) had broken out to new highs and would likely be trading higher in coming weeks.
Thermo Fisher Scientific, Inc. develops, manufactures and markets analytical and environment monitoring instruments. The company provides analytical instruments, equipment, reagents and consumables, software and services for research, analysis, discovery and diagnostics.
Since that last report, share prices have jumped + 7.6% and are trading at $70.84 near the close on Monday, January 28th.
This brings TMO to its first test of resistance, at $71.83.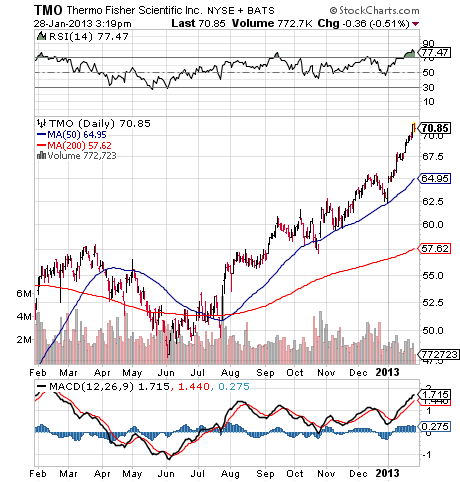 Chart Courtesy of StockCharts.com
If this level is decisively surpassed the stock could go much higher. That will be the test over the next several days.
If we have a decisive close above $71.83, look for share price to rise all the way to $79.59 in coming weeks which is the next resistance level and the target for this advance.
The Fibtimer.com (http://www.fibtimer.com) ETF Timing Strategy does have a position in Thermo Fisher Scientific.
Disclosure: I am long TMO.