February 14, 2013 (by Frank Kollar)
Shares of Archer Daniels Midland (NYSE: ADM) have risen substantially since we recommended this stock back on December 18th.
Yesterday, ADM closed above the first target ($30.54) we have been looking for and today continues to rally with a close at $31.16.
Archer Daniels Midland Co. is engaged in the processing of oilseeds, corn, wheat, cocoa, and other agricultural commodities. It manufactures various products, including vegetable oil, protein meal, corn sweeteners, flour, biodiesel, ethanol, and other value-added food and feed ingredients.
We have one additional target for ADM at $32.22. This is a bit over 3% above today's close.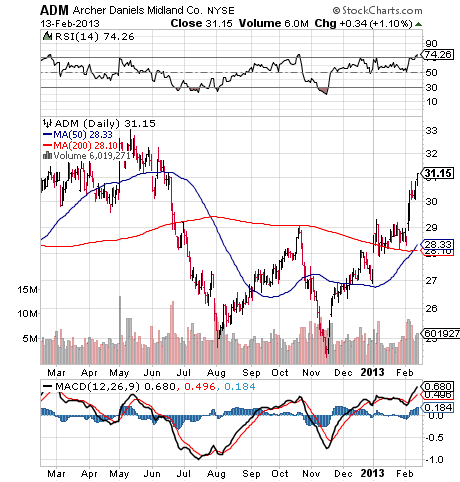 Chart Courtesy of StockCharts.com
A decisive close above $32.22 would point to a test of the 2012 highs at $33 a share. If ADM can breakout above $33 we will issue another analysis. The $32.22 to $33.00 level should offer substantial resistance.
The Fibtimer.com (http://www.fibtimer.com) Stock Timing Strategy does have a position in Archer Daniels Midlands.
Disclosure: I am long ADM.