March 19, 2013 (by Frank Kollar)
Shares of Watsco Inc (NYSE: WSO), up almost one percent on Monday, March 18th (at the time this article was written), should still have room to rise in coming weeks.
The company distributes equipment, including residential central air conditioners, gas, electric and oil furnaces, commercial air conditioning and heating equipment and systems.
Watsco's fourth-quarter earnings rose 10% as improved same-store sales contributed to stronger-than-expects revenue growth in last week's quarterly report.
More importantly, shares rallied on the news on double the normal volume.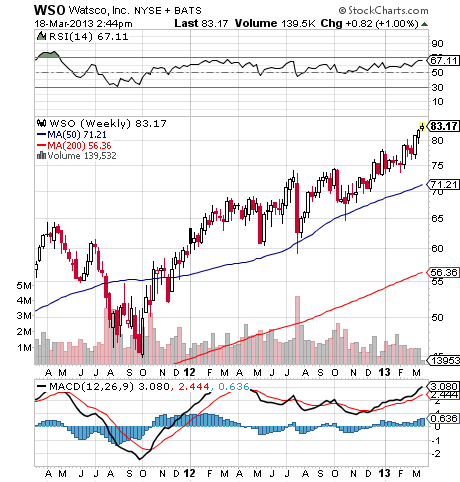 Chart Courtesy of StockCharts.com
At over $83 a share, shares are pricey but that does not mean they cannot go higher. Just ahead is resistance at $84.55 a share. If WSO can make a solid close above this level, shares should then continue higher and test $89.90.
The $89.90 level would be a good place to tighten up on your sell-stop.
The Fibtimer.com (http://www.fibtimer.com) Stock Timing Strategy does not have a position in Watsco Inc.
Disclosure: I have no positions in any stocks mentioned, and no plans to initiate any positions within the next 72 hours.