March 26, 2013 (by Frank Kollar)
Shares of SPDR Gold Shares (NYSE: GLD) managed a small rally up to about $156.80 last week.
That was the high reached back on february 26th and it is also the the lower level of the gap- open back on February 15th when prices plunged.
Those are two reason to see the $15.80-16.00 level as resistance and also good reason to look at the failed short term rally that tested this level as another bearish indicator looking forward.
We are looking for another test of the February 20th correction lows at $150.84 over coming days.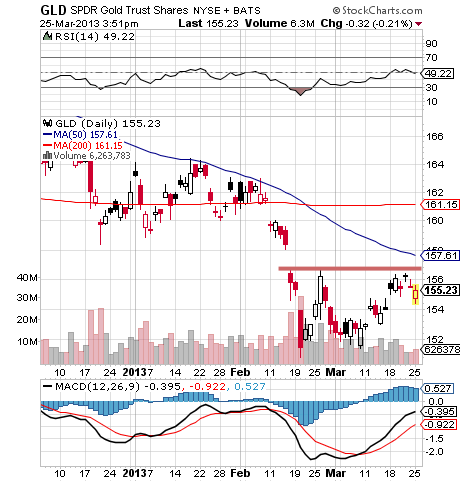 Chart Courtesy of StockCharts.com
A close below that low would be a sign of more lows ahead, with the end of this correction in gold not yet in sight.
But for the sake of those who like trying to do so, we will peg the bottom of this decline around the $145.00 level.
With share prices holding just above the $150 level which acted as support back in June, 2012, we are looking for one more break lower, and then a quick selloff to the $145 level.
If we get a bullish reversal pattern near the $150.00 level, it may signal a bottom. This of course is where the risk comes in.
The Fibtimer.com (http://www.fibtimer.com) ETF Timing Strategy does not have a position in the SPDR Gold Shares.
Disclosure: I have no positions in any stocks mentioned, and no plans to initiate any positions within the next 72 hours.