March 27, 2013 (by Frank Kollar)
It is somewhat puzzling that the Nasdaq 100 Powershares Trust (NYSE: QQQ) is still being held below the $68-$69 level.
Two weeks ago we were looking for a potential breakout and still prices remain at the same level, with lots of volatility, but held by an invisible hand below resistance.
Should QQQ close decisively above this resistance, there is again resistance at $69.68. But this will be the really important level to watch.
We would be careful to enter a new position unless there is a clear bullish breakout. A bullish outside reversal day or a decisive close above $69.00 a share.
A close above $69.68 or a decisive close above $69.00 could result in rally all the way to $73.10.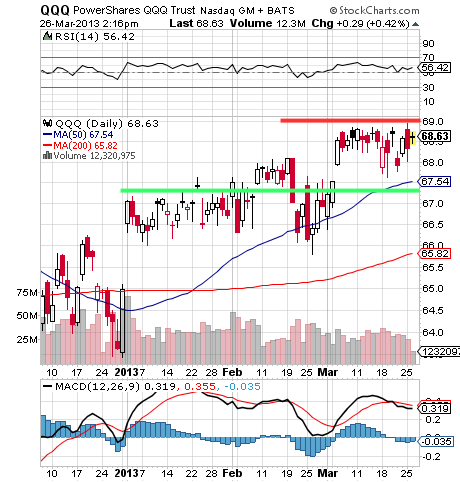 Chart Courtesy of StockCharts.com
While the other major indexes are in full rally mode, QQQ has been having difficulty at each resistance level it encounters. Watch $69.00 for a potential breakout that could launch a solid rally, if the breakout occurs.
The Fibtimer.com (http://www.fibtimer.com) ETF Timing Strategy does have a current position in the Nasdaq 100 Powershares Trust.
Disclosure: I am long QQQ.