April 10, 2013 (by Frank Kollar)
On two occasions in March, we wrote that we were looking for a possible breakout for the widely traded ETF, Nasdaq 100 Powershares Trust (NYSE: QQQ).
Since early March, the Q's have traded in a well defined range, with highs around $69.00 and lows around $68.00. For a very volatile sector, the Nasdaq 100, this was a very tight range and a breakout, or breakdown, had to happen.
The Q's have been in an uptrend since mid-November, 2012 and the sideways trading was likely to break to the upside. The rally in the S&P 500 Index also pointed to higher highs.
Today's rally, April 10th, is a real boost for bulls, with the Q's up almost 1.5% just before the close.
Two weeks ago we wrote: "Should QQQ close decisively above this resistance, there is again resistance at $69.68. But this will be the really important level to watch. We would be careful to enter a new position unless there is a clear bullish breakout. A bullish outside reversal day or a decisive close above $69.00 could result in rally all the way to $73.10."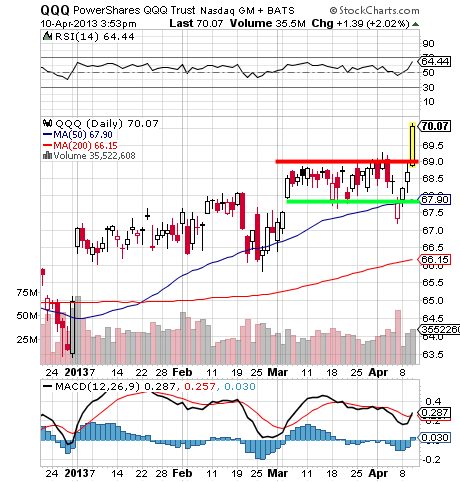 Chart Courtesy of StockCharts.com
Today's rally was clearly a breakout. The trading range has been decisively and bullishly broken. We are looking for the Q's to reach at least $73.10 in coming days.
The Fibtimer.com (http://www.fibtimer.com) ETF Timing Strategy does have a current position in the Nasdaq 100 Powershares Trust.
Disclosure: I am long QQQ.