May 22, 2013 (by Frank Kollar)
Shares of IShares Silver Trust (NYSE: SLV) posted an interesting bullish chart pattern on Monday, May 20th.
There has been little in the way of bullish anything for SLV since back in August 2012. With the exception of a few bullish weeks, the trend has been decisively down.
The pattern we noticed yesterday is on the daily chart. It was a bullish outside reversal day. This occurs when the intra-day lows and highs were greater than the prior day's trading range and the close was at the highs.
In this case, it occurred after an extremely bearish month, and the day opened at a new trading low. The direction changed and SLV closed dramatically higher than even the prior three trading days.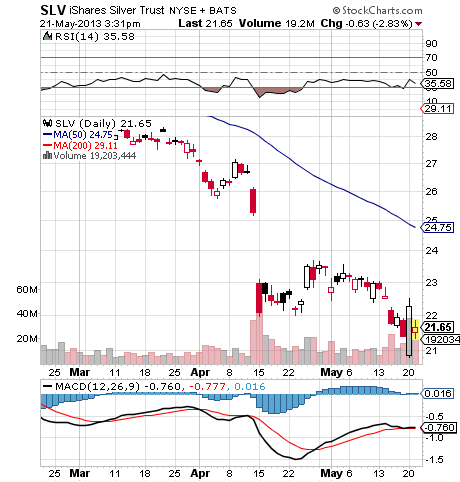 Chart Courtesy of StockCharts.com
Typically such days are followed by a change in trend, at least for awhile and sometimes for a new sustained trend.
We need to see follow through to confirm a change in trend. As of Tuesday, may 21st, we do not have confirmation.
It is worth keeping an eye on SLV for a possible bullish trade.
The Fibtimer.com (http://www.fibtimer.com) ETF Timing Strategy does not have a position in the IShares Silver Trust.
Disclosure: I have no positions in any stocks mentioned, and no plans to initiate any positions within the next 72 hours.