February 23, 2012
Shares of Qualcomm Inc (NASDAQ: QCOM) has been in rally mode since mid-December, rising some 20% in two months. Can this stock still move higher?
QCOM has reached its first resistance level at $63.02 a share. The odds of profit-taking here are high. But, if share prices are able to surpass this level in coming days, we will be looking at a new target for the stock.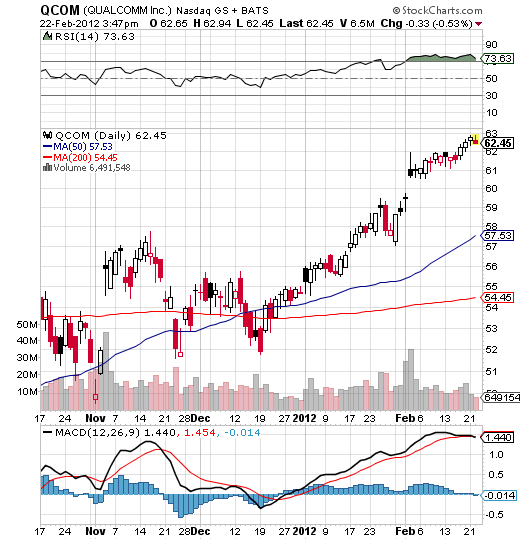 Chart Courtesy of StockCharts.com
When a stock makes a decisive close above resistance, we look to the next resistance level as the new target. The next resistance level is up at $67.69 a share, 8% above Wednesday's February 22 close.
QCOM has support at $60.00 a share. A close above $63.02 would point to $67.69 a share.
The Fibtimer.com (www.fibtimer.com) Stock Timing Strategy does not currently hold a position in Qualcomm Inc.
Frank Kollar has been timing the financial markets since 1982, with online service since 1996. He is a dedicated trend timer and his strategies exited the markets before the crash in 1987 as well as the bear market in 2000 through 2002. During the 2000-2002 bear market and the 2008-2009 bear market his bearish positions resulted in substantial gains, all achieved by trading trends.
Kollar's research has shown that the financial markets are in tradable trends approximately 80 percent of the time. FibTimer strategies define trends and trade them in both advancing and declining markets. Caring nothing about what newscasters say or what the latest economic indicator predicts, trends are where the profits are, and that is where FibTimer is.
Kollar is editor and chief analyst at FibTimer.com (http://www.fibtimer.com) which offers market timing strategies for S&P and Nasdaq index fund traders, as well as bond, gold, small cap, sector, ETF and stock trading strategies.
Disclaimer: The financial markets are risky. Investing is risky. Past performance does not guarantee future performance. The foregoing has been prepared solely for informational purposes and is not a solicitation, or an offer to buy or sell any security. Opinions are based on historical research and data believed reliable, but there is no guarantee that future results will be profitable.
Disclosure: I have no positions in any stocks mentioned, but may initiate a long position in QCOM over the next 72 hours.