March 27, 2012
Shares of Texas Instruments Inc (NYSE: TXN) had made a nice run higher into January, and at the time it looked like the stock was ready to take off. But until Monday, March 26, the stock was unable to continue higher.
Texas Instruments is a global analog and digital semiconductor IC design and manufacturing company. In addition, to analog technologies, digital signal processing and microcontroller semiconductors, it designs and manufactures semiconductor solutions for analog and digital embedded and application processing.
Texas Instruments closed just short of $33.93 a share on January 18 and then was unable to move higher for over two months. The $33.75-33.90 level has been an extremely effective resistance level.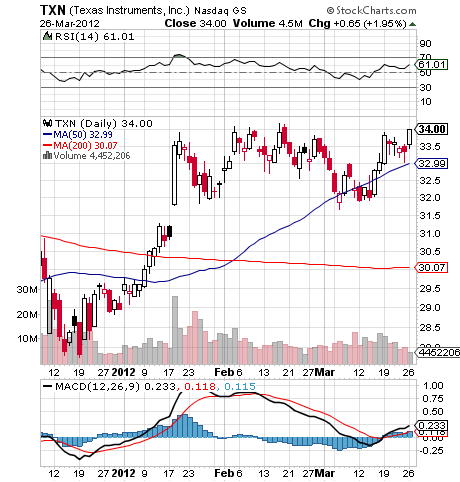 Chart Courtesy of
StockCharts.com
Texas Instruments finally closed above this level on Monday, March 26 and looks poised to move higher in a strong technology sector.
Look for prices to reach $36.56 over coming weeks. This was the 2011 closing high.
Texas Instruments has strong support at $32.00 a share, the lows of the last early march correction.
The Fibtimer.com (http://www.fibtimer.com) Stock Timing Strategy holds a position in Texas Instruments.
Frank Kollar has been timing the financial markets since 1982, with online service since 1996. He is a dedicated trend timer and his strategies exited the markets before the crash in 1987 as well as the bear market in 2000 through 2002. During the 2000-2002 bear market and the 2008-2009 bear market his bearish positions resulted in substantial gains, all achieved by trading trends.
Disclosure: I am long TXN.