April 3, 2012 (FinancialWire) (By Frank Kollar)
Shares of Fluor Corp. (NYSE: FLR) are trading in a potentially bullish pattern.
Using a daily chart of FLR, draw a line through the highs since February 2012 to the right of the chart. Draw a line through the lows to the right of the chart.
This is a pennant pattern and in this case the pattern is a very definitive one. Typically when the price breaks out of a pennant pattern either to the upside or downside, it is a start of a new trend in the direction of the break.
Also, the break out of a pennant pattern tends to go in the direction of the previous trend, in this case an uptrend from the December 2011 lows. We would expect the pattern to break to the upside.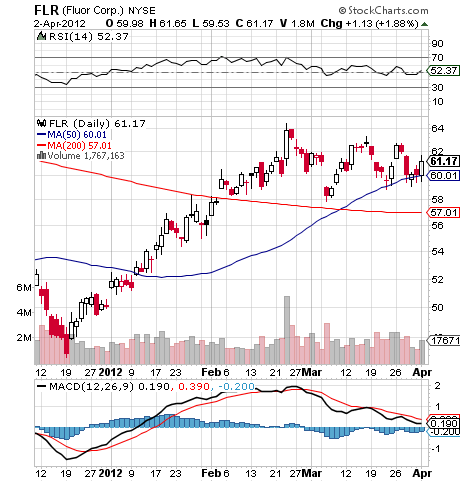 Chart Courtesy of
StockCharts.com
The pattern is a fairly dependable one and a trade in the direction of the break could be a profitable one.
The Fibtimer.com (http://www.fibtimer.com) Stock Timing Strategy has no position in Fluor Corp.
Frank Kollar has been timing the financial markets since 1982, with online service since 1996. He is a dedicated trend timer and his strategies exited the markets before the crash in 1987 as well as the bear market in 2000 through 2002. During the 2000-2002 bear market and the 2008-2009 bear market his bearish positions resulted in substantial gains, all achieved by trading trends.
Disclosure: I have no positions in any stocks mentioned, but may initiate a long position in FLR over the next 72 hours.