April 4, 2012
The daily chart for Streettracks Gold (NYSE: GLD) has broken an important support level and appears set for lower lows in coming weeks.
Only a few weeks ago we wrote that GLD was likely due for a bounce. That was based on a support level that was broke shortly after that article. However this support is considerably more ominous.
Looking at the daily chart, GLD made a closing high on August 22, 2011. It made
In the same way we get a declining trend support line by connecting the closing lows on September 28, 2011 and December 28, 2012 and continuing the line to the right side of the chart.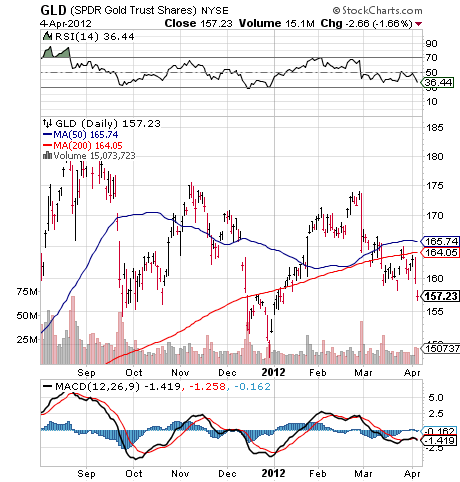 Chart Courtesy of
StockCharts.com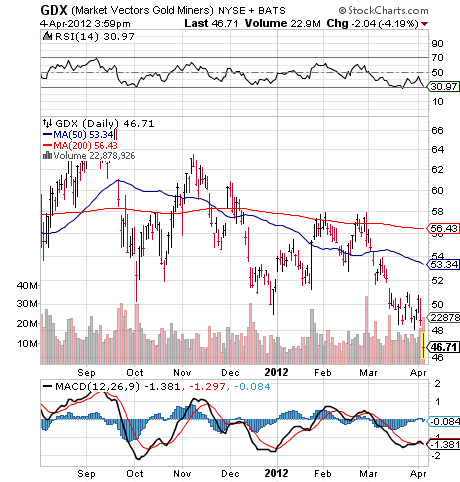 Chart Courtesy of
StockCharts.com
The closing lows on this leg down for GLD were made on March 22, 2012. Those lows were broken in Wednesday's April 4 selloff.
Looking at Market Vector Gold Miners ETF - GDX, we can also draw declining trend resistance and declining trend support lines. But with GDX, the lower declining support line was decisively broken in Wednesday's April 4 decline. This is ominous for GLD.
http://www.fibtimer.com does not currently have a position in Streettracks Gold.
Disclosure: I have no positions in any stocks mentioned, and no plans to initiate any positions within the next 72 hours.