May 4, 2012
Shares of Intel Corp (NASDAQ: INTC) suffered a bearish outside reversal day on Thursday, May 3. Such days are typically followed by further selling.
A bearish outside reversal day occurs when a stock opens higher and closes lower than the trading range of the preceding day. When it happens at a new rally high, it tends to be followed by more selling over coming days.
Intel Corporation designs, manufactures, and sells integrated digital technology platforms primarily in the Asia-Pacific, the Americas, Europe, and Japan. The company has a P/E ratio of 12.2, equal to the average electronics industry P/E ratio and below the S&P 500 P/E ratio of 17.7.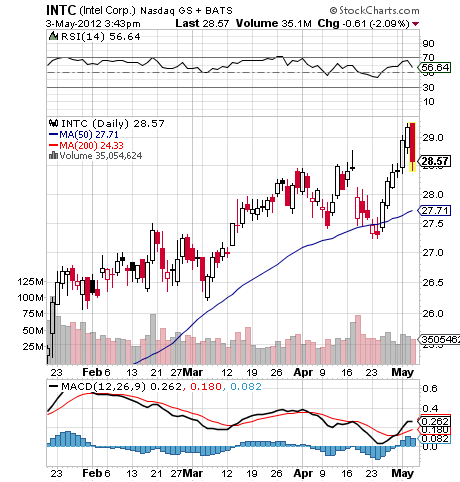 Chart Courtesy of
StockCharts.com
We do not see a reason for Intel's one day reversal and this may be but a temporary setback in an otherwise strong up-trend for the company's stock.
Intel has strong support at $27.68, its 50-day moving average and at $27.24, its recent correction low reached on April 24.
The Fibtimer.com (http://www.fibtimer.com) Stock Timing Strategy currently has a bullish position in Intel.
Frank Kollar has been timing the financial markets since 1982, with online service since 1996. He is a dedicated trend timer and his strategies exited the markets before the crash in 1987 as well as the bear market in 2000 through 2002. During the 2000-2002 bear market and the 2008-2009 bear market his bearish positions resulted in substantial gains, all achieved by trading trends.
Disclosure: I am long INTC.