May 22, 2012
Starbucks Corp (NASDAQ: SBUX) has pulled back over 14% from its prior highs. Is this a good time to buy this popular company's stock?
Starbucks is the leading fresh coffee and specialty coffee brewer plus sells high quality whole coffee beans and coffee related equipment.
Starbucks rarely declines as much as this current correction. It is always possible that lower lows are ahead, but if the line we had to wait in this morning to get a cup of coffee is a sign, then the current levels is actually a great buying opportunity.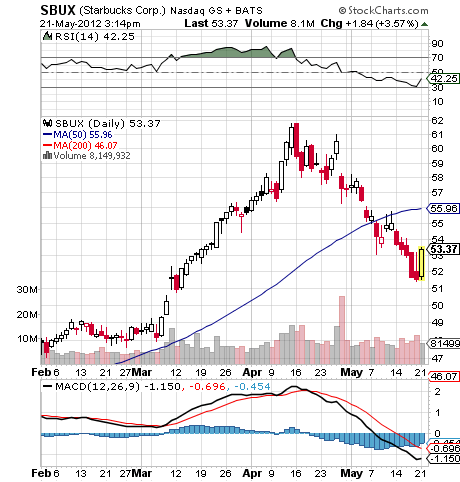 Chart Courtesy of
StockCharts.com
With support just below the correction lows, at $51.25, we would consider Starbucks a solid buy at this time. Using a tight stop below support at $51.00, it is also a very low risk trade.
Support is at about $51.25.
The Fibtimer.com (http://www.fibtimer.com) Stock Timing Strategy does not have a position in Starbucks.
Frank Kollar has been timing the financial markets since 1982, with online service since 1996. He is a dedicated trend timer and his strategies exited the markets before the crash in 1987 as well as the bear market in 2000 through 2002. During the 2000-2002 bear market and the 2008-2009 bear market his bearish positions resulted in substantial gains, all achieved by trading trends.
Disclosure: I have no positions in any stocks mentioned, but may initiate a long position in SBUX over the next 72 hours.