June 6, 2012 (By Frank Kollar)
Shares of Whole Foods Marketing (NYSE: WFM) rallied over 2% on heavy volume Tuesday, June 5. A breakout could be ahead.
WFM Reached rally closing highs and 2012 highs on May 3, 2012. Since that date WFM has been trading in an ever tighter band, with rallies reaching lower highs and declines reaching higher lows.
This has created a pennant pattern on the daily chart. Typically when a stock breaks such a pattern it continues in the direction of the break. Also, stocks usually break in the direction of the prior trend, in this case an uptrend.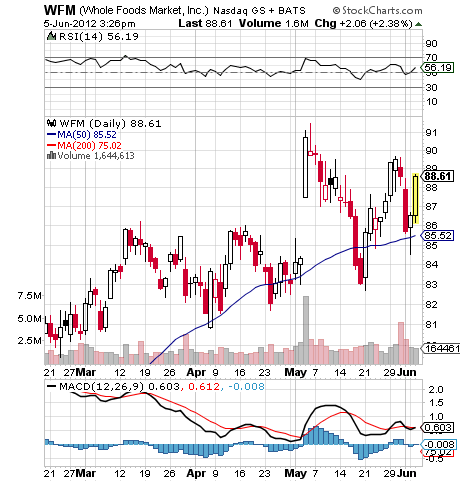 Chart Courtesy of
StockCharts.com
WFM has support at $84.50. A bullish entry at current levels offers a low risk trade with a stop at support.
If WFM breaks out, it should go to at least $93.89.
The Fibtimer.com (http://www.fibtimer.com) Stock Timing Strategy does not hold a position in Whole Foods Marketing but could enter a bullish position in coming days.
Frank Kollar has been timing the financial markets since 1982, with online service since 1996. He is a dedicated trend timer and his strategies exited the markets before the crash in 1987 as well as the bear market in 2000 through 2002. During the 2000-2002 bear market and the 2008-2009 bear market his bearish positions resulted in substantial gains, all achieved by trading trends.
Disclosure: I have no positions in any stocks mentioned, but may initiate a long position in WFM over the next 72 hours.