June 27, 2012 (By Frank Kollar)
Shares of Whole Foods Marketing (NYSE: WFM) have again closed at a new all-time high. Is there still upside ahead for this widely followed stock?
Whole Foods is engaged in the retailing business of natural and organic foods. The company owns and operates the chain of natural and organic foods supermarkets in the United States, Canada, and the United Kingdom.
After correcting in early May, WFM has been in rally mode, adding some $14.00 in just over four weeks, or 17%.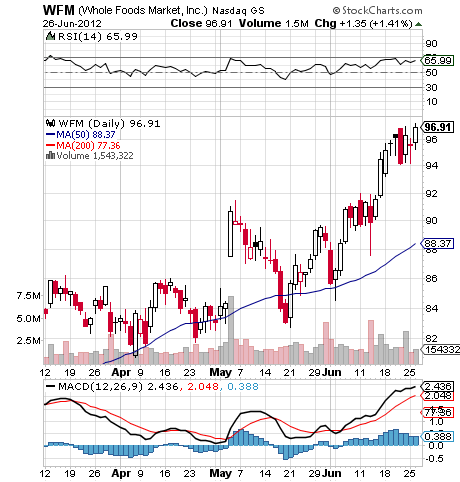 Chart Courtesy of
StockCharts.com
WFM is a stock that can continue higher for some time. The chain is in the midst of an expansion, in fact a new one just opened here in Charlottesville, VA and it is so extensive, it is worth a stop just to sightsee. Throughout the store can be found small comfortable areas to site, have a specialty coffee or snacks. An amazing place that continues to draw consumers.
If WFM does correct near-term, there is support at $89.00 a share.
The Fibtimer.com (http://www.fibtimer.com) Stock Timing Strategy does hold a position in Whole Foods Marketing.
Disclosure: I am long WFM.