July 19, 2012 (By Frank Kollar)
Shares of the widely traded small cap ETF IShares Russell 2000 Index Fund (NYSE: IWM) are likely headed considerably higher in coming weeks.
IWM is in a well defined up trend, since reaching correction lows on june 5th, the ETF has gained some 9%, outperforming the Nasdaq Composite Index (NDX) and S&P 500 Index (SPX).
During this advance, IWM has corrected three times. Each correction low has stopped at a higher intra-day as well as higher closing low. There have been two completed short term rallies also, each closing at a higher high.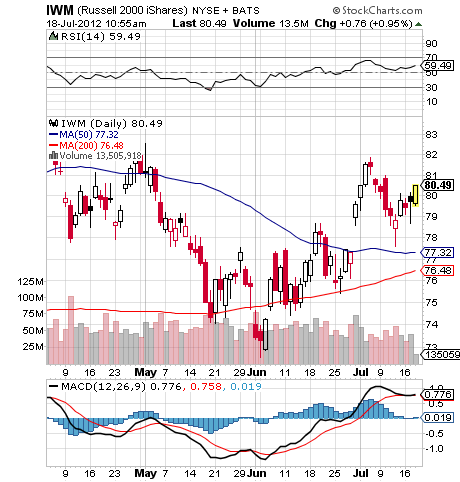 Chart Courtesy of
StockCharts.com
If you draw a line through the higher lows reached since June 5th, it creates a solid rising trend support line.
IWM recently tested its 50-day moving average and the average held as support. The 50-day moving average is also well above the 200-day moving average which is a bullish indicator.
IWM should move higher from here, with a test of the previous 2012 highs near $84 a share likely in coming months.
The Fibtimer.com (http://www.fibtimer.com) ETF Timing Strategy does currently hold a position in the IShares Russell 2000 Index Fund.
Disclosure: I am long IWM.