August 2, 2012 (By Frank Kollar)
Shares of SPDR Gold Shares (NYSE: GLD) have been creating a pennant pattern since their late July early June 2012 correction lows. Pennant patterns tend to forecast market direction when broken.
Using a daily bar chart, on June 6 and again on July 27, GLD made rally highs. A line, drawn through them and to the right of the chart, creates a declining trend resistance line.
On May 30, June 28 and again on July 12, GLD made correction lows, each higher than the previous low. A line, drawn through them and to the right of the chart, creates a rising trend support line.
GLD is extremely volatile and only those who are experts at shorting should consider trading this ETF, but there is a potential trade ahead.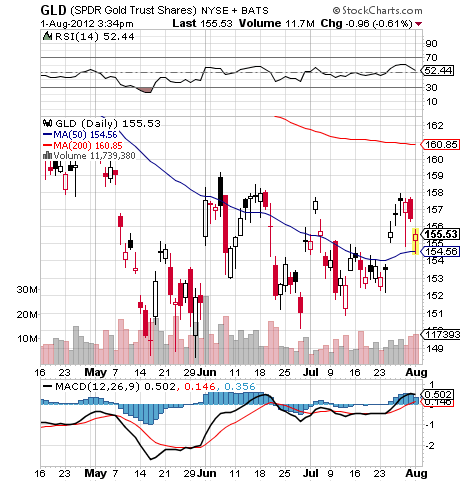 Chart Courtesy of
StockCharts.com
Should GLD break below the rising trend support line, currently at about $152.50, it would be a break of support and would likely be followed by lower prices.
Pennant patterns typically break in the direction of the previous trend, so the expectation is for a break to the downside.
Of course a break of trend resistance would be bullish and a long trade called for The declining trend resistance line is currently at about $157.75.
We would keep a tight buy stop on any GLD trades and if it is hit do not second guess it. GLD is far too volatile.
The Fibtimer.com (http://www.fibtimer.com) ETF Timing Strategy does not have a position in SPDR Gold Shares.
Disclosure: I have no positions in any stocks mentioned, and no plans to initiate any positions within the next 72 hours.