August 13, 2012 (By Frank Kollar)
Shares of the Exchange Traded Fund Market Vectors Biotech (NYSE: BBH) may have the reputation of being volatile, but for those looking for a strong current uptrend, BBH fits the bill.
Since hitting correction lows at $29.33 back on August 7, 2011, BBH has risen steadily over the past year to $49.66 as of Monday, August 12 near the close. This 69% gain puts the biotech sector near the top in performance.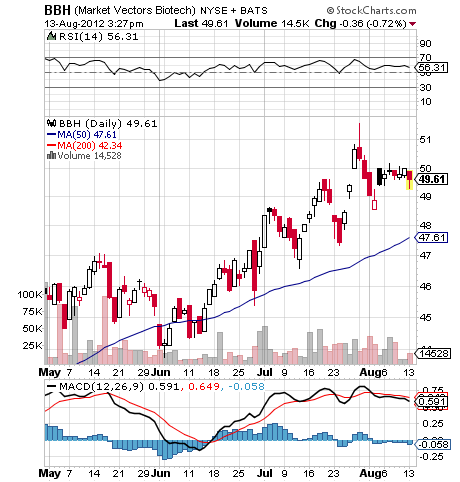 Chart Courtesy of StockCharts.com
There is still some volatility and buyers of this ETF should be prepared for 5% to 8% pullbacks. A trailing stop around 10% should protect against a further corrective movement.
Even lower risk would be had with a stop at $47 a share, the July 24 correction low.
The Fibtimer.com (http://www.fibtimer.com) ETF Timing Strategy does have a position in Market Vectors Biotech.
Disclosure: I am long BBH.