August 15, 2012 (By Frank Kollar)
Both the S&P 500 Index (SPX) and its tracking ETF the S&P Deposit Receipts (NYSE: SPY) have been slowly regaining ground after a steep correction stopped the November 2011 to April 2012 rally.
SPY closed at 141.84, its rally high on April 2. By June 4, SPY had lost 10% and slowly began to move higher.
Now both SPY and SPX are within a fraction of making new highs again. If they do, it will increase the odds of a continued advance greatly.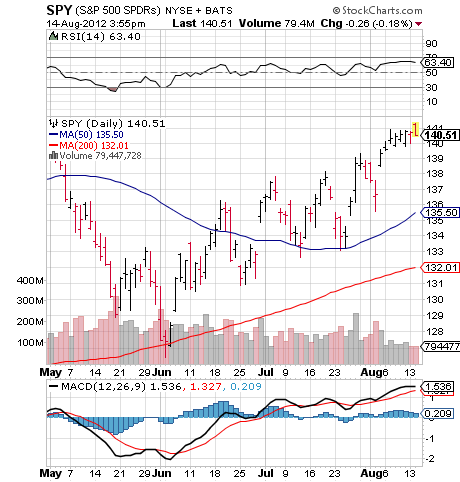 Chart Courtesy of StockCharts.com
At the same time, a failure to break out would be a huge sign that we could have considerably lower lows ahead.
Certainly SPY 141.84 and SPX 1419.04 are resistance levels that will have a huge predictive value to the just starting rally in U.S. markets.
The Fibtimer.com (http://www.fibtimer.com) ETF Timing Strategy has a position in the S&P 500 SPDRs.
Disclosure: I am long SPY.