August 24, 2012 (By Frank Kollar)
Shares of SPDR Gold Shares (NYSE: GLD) launched what looks like a breakout rally after surpassing resistance at the $158 level on Tuesday, August 21st.
UOnly three weeks ago we were looking at possible short trades for this widely traded and extremely volatile ETF. That trade was never executed as GLD never broke below our suggested short entry price.
GLD remains far below its highs, but in the near-term there is a good potential to profit from this rally.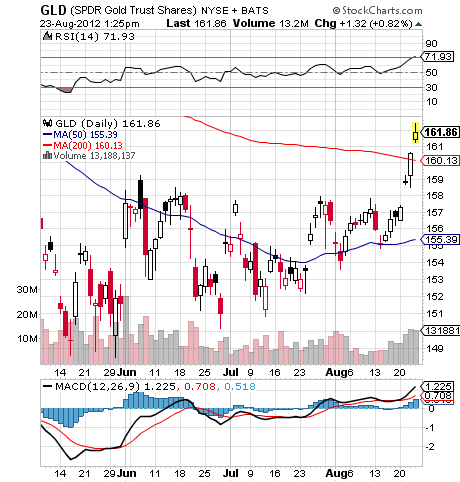 Chart Courtesy of StockCharts.com
GLD should reach at least $164.20 in this current run, and if it can make a decisive close above $164.20, we would be looking for shares to run up to the previous March 2012 highs near $174.00.
Again, GLD trades should have a stop as the commodity based ETF can move very fast and very far in a single day. Sugguested buy stop would be at $154.50.
The Fibtimer.com (http://www.fibtimer.com) ETF Timing Strategy does not have a position in SPDR Gold Shares.
Disclosure: I have no positions in any stocks mentioned, and no plans to initiate any positions within the next 72 hours.